Week 5: March 7, 2020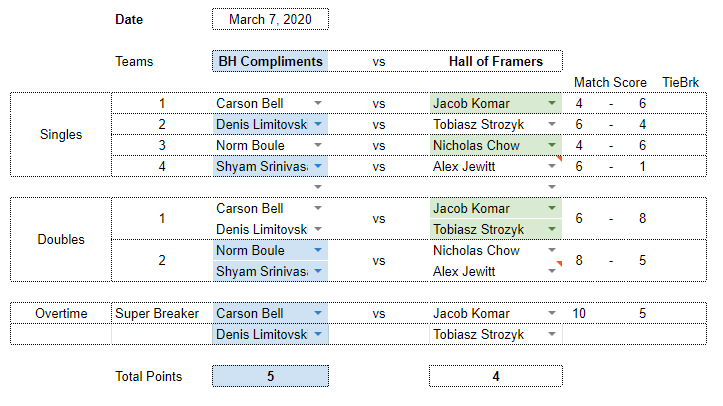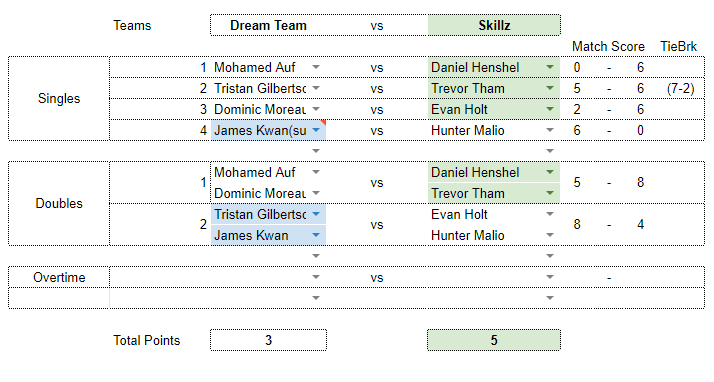 Week 4: February 8, 2020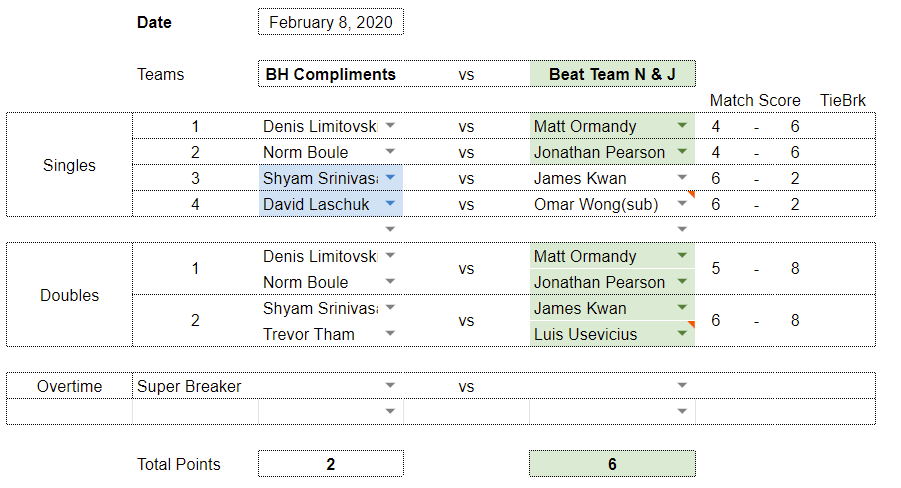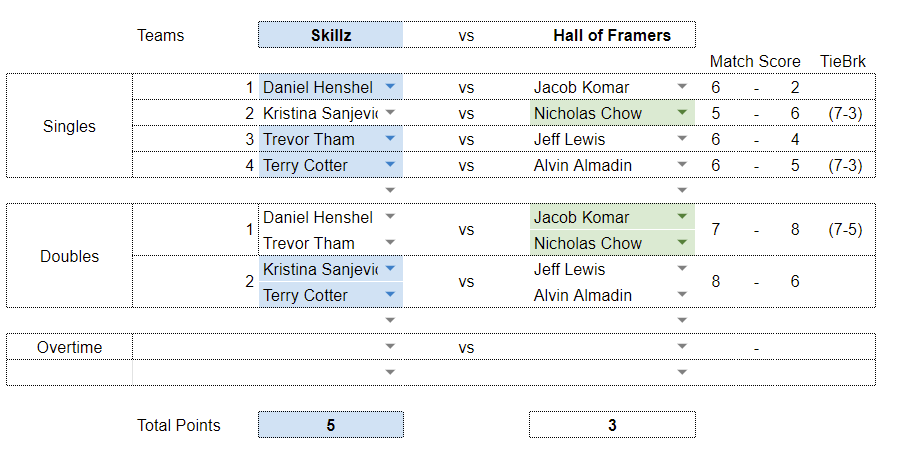 2019/2020 Winter Elite League
Week 3: January 18, 2020
Week 2: January 4, 2020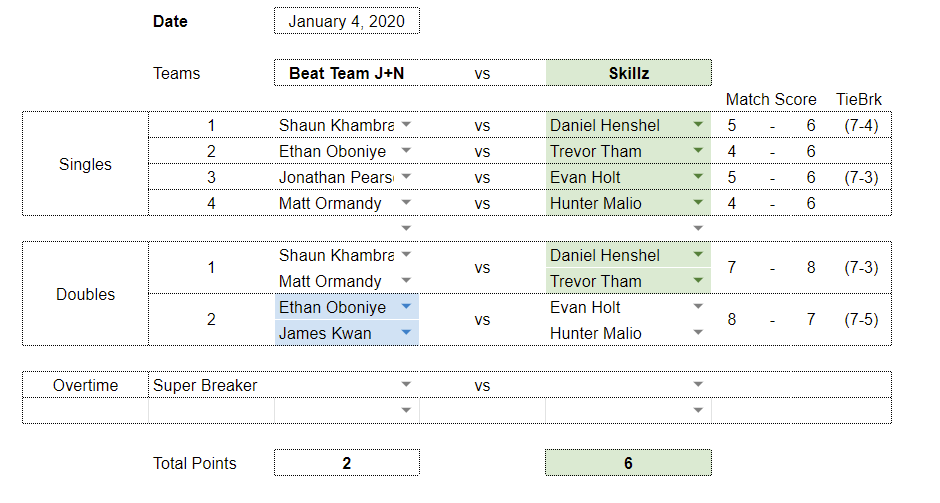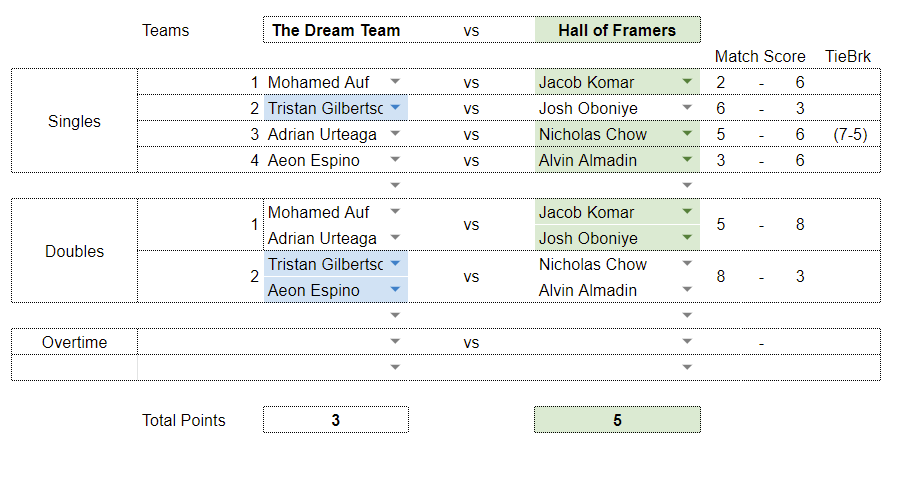 Week 1: November 30, 2019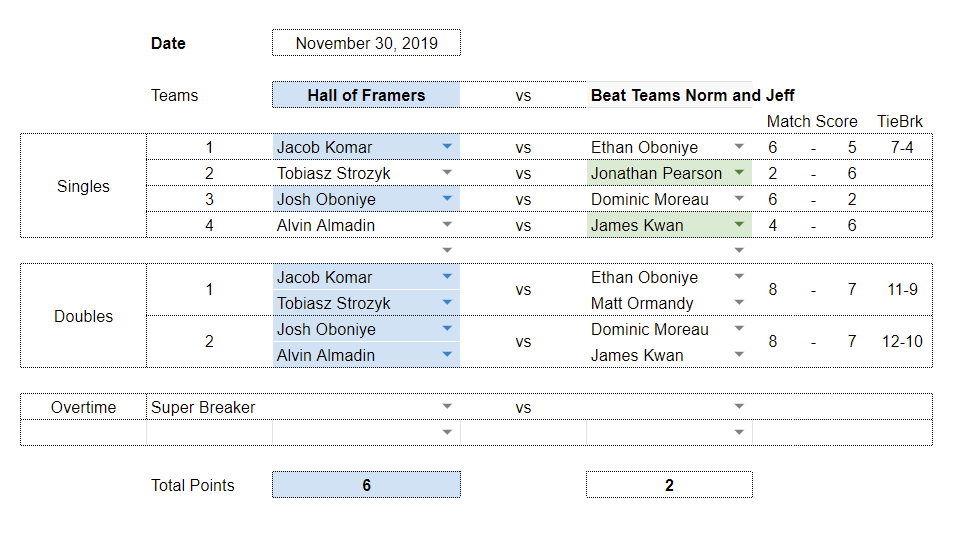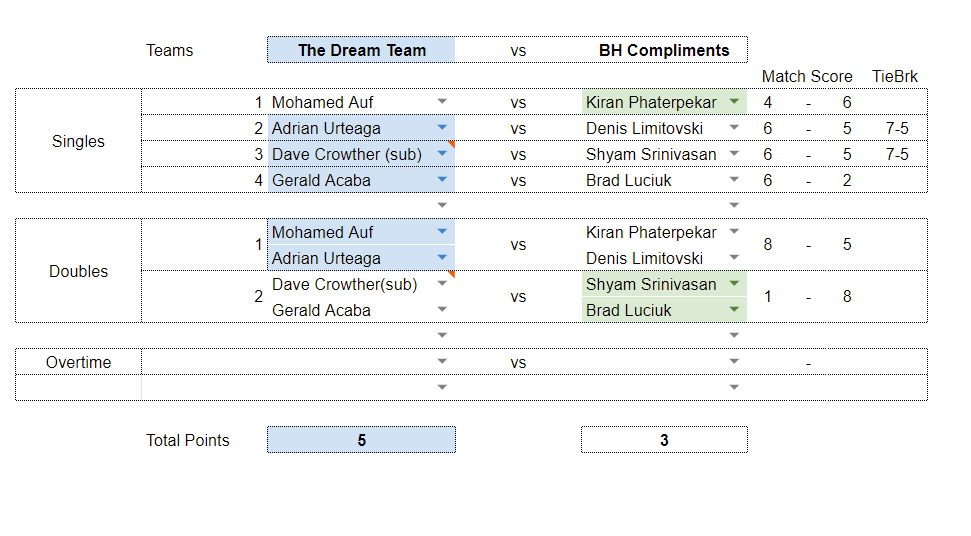 2019 Summer League:
Finals: August 26, 2019
Congratulations to Team "Hall of Framers" for winning the 2019 Summer Elite League.  Jeff Lewis, Zack Perala, Michal Ostrzygalo, Tobiasz Strozyk, Martyna Ostrzygalo, Keenan Desmarais and Michelle Lewis!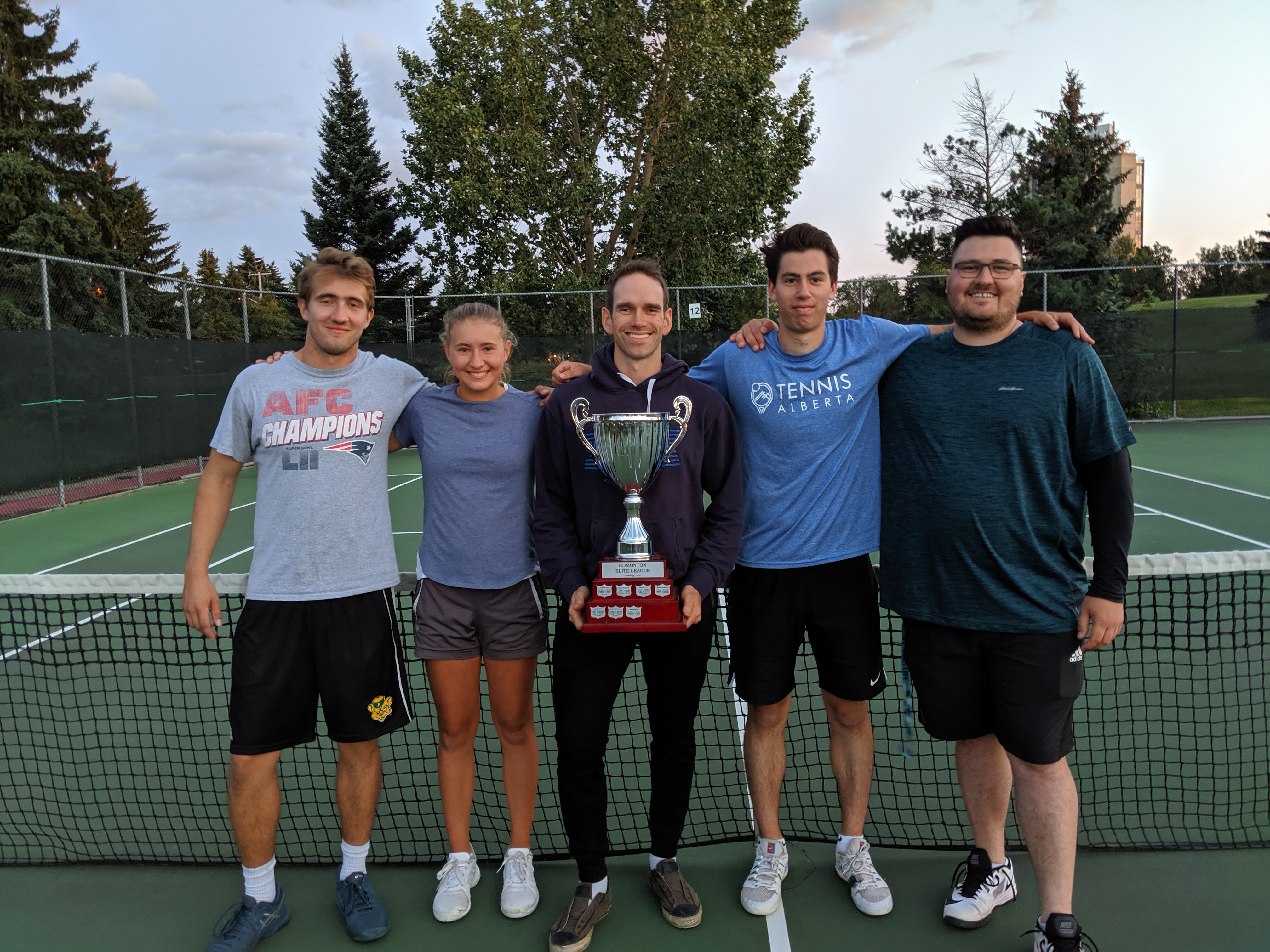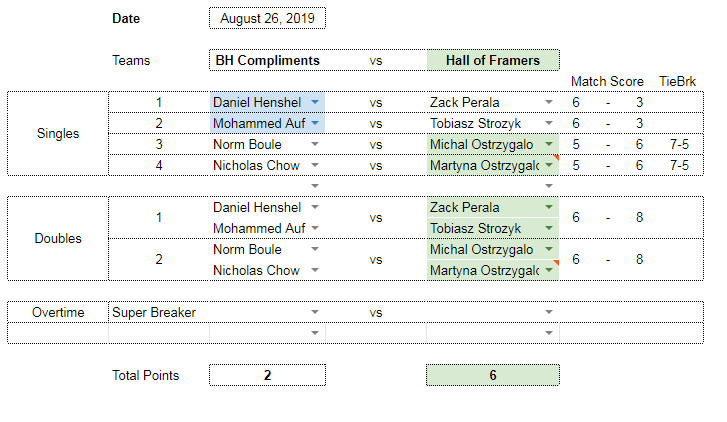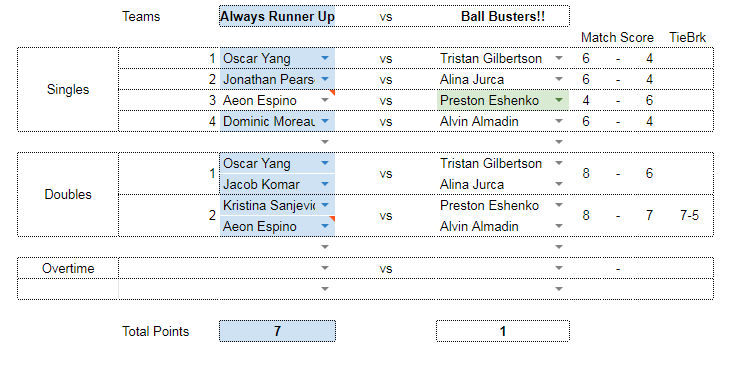 Semi Finals: August 19, 2019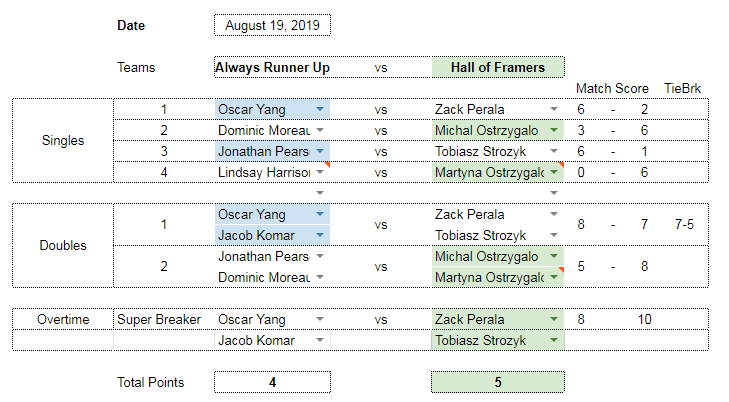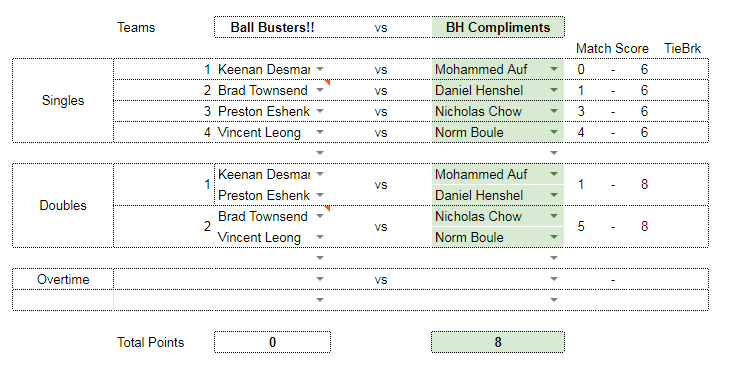 Week 5: July 29,2019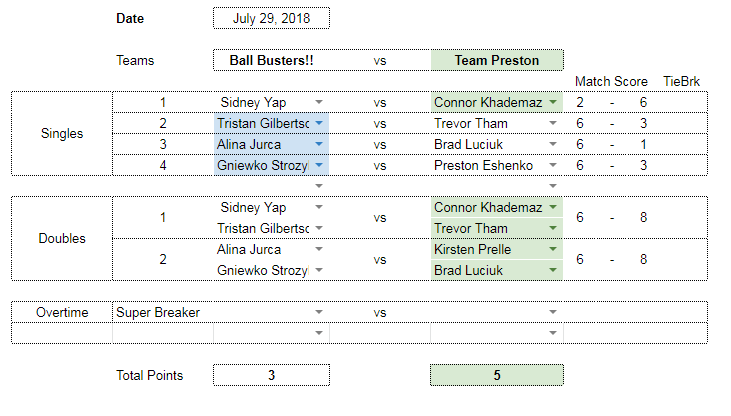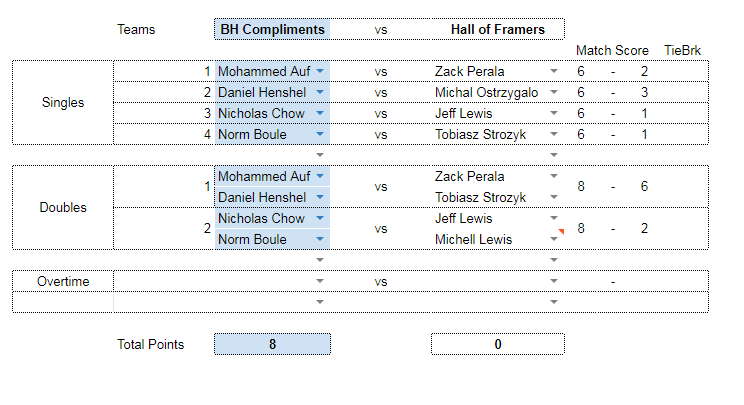 Week 4: July 22, 2019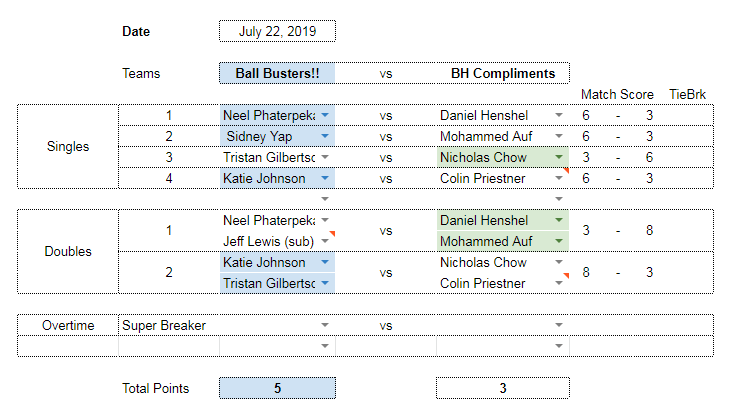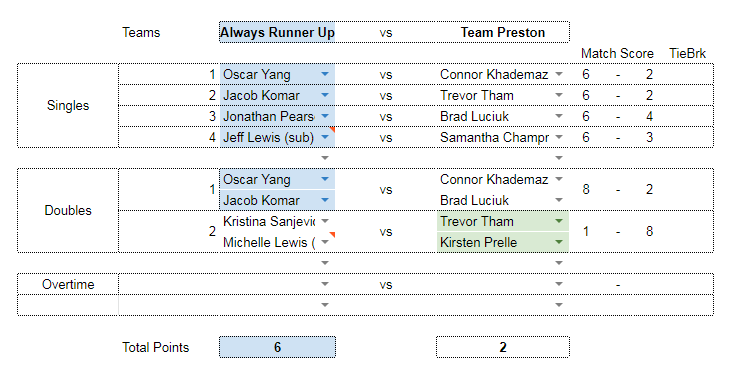 Week 3: July 15, 2019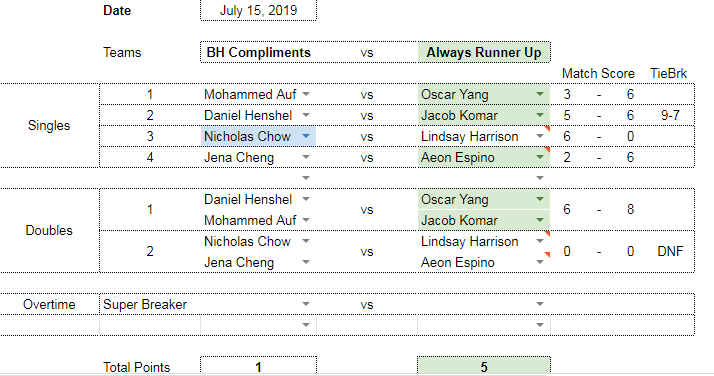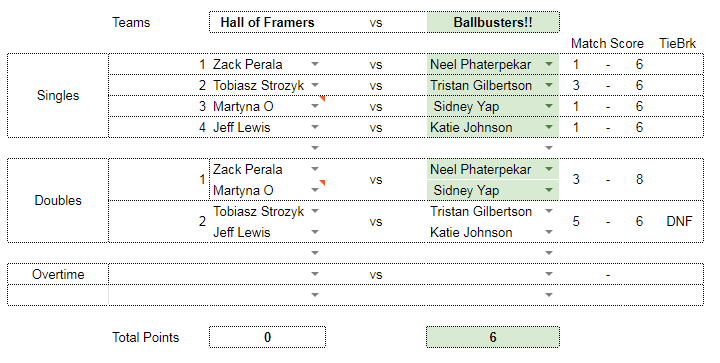 Week 2: July 8, 2019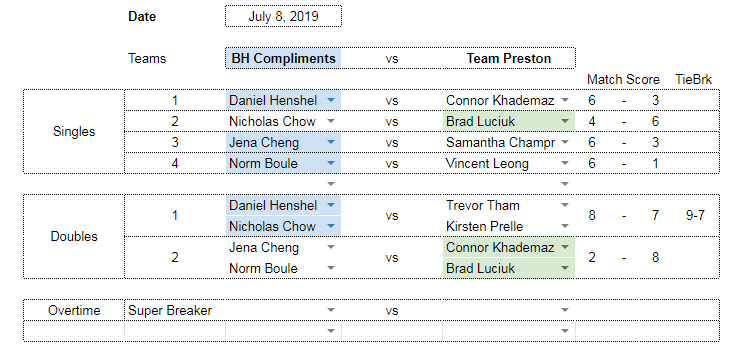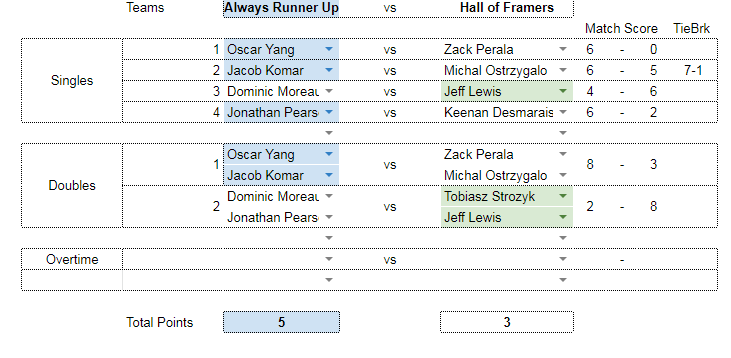 Week 1: June 17, 2019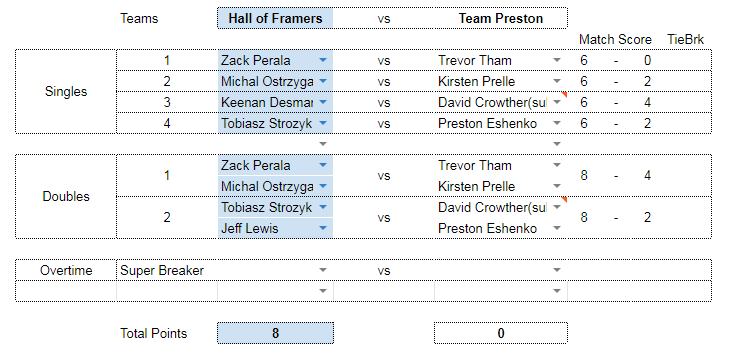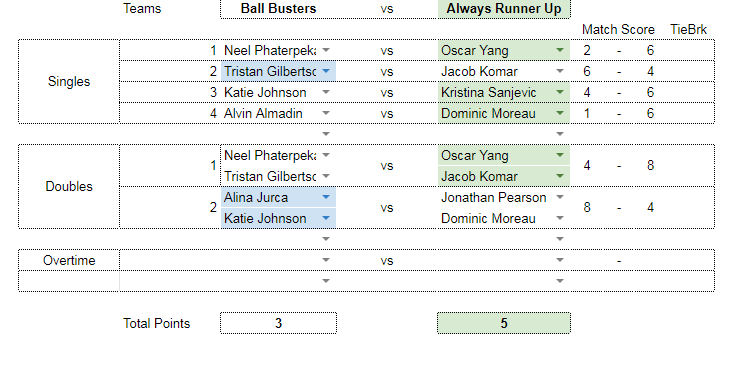 2018/2019 Winter Elite League
Finals:
Congratulations to B-Town Beatdown for winning the 2018-2019 winter league!! 
Brad Townsend, Ryan Townsend, Trevor Tham, Kristina Sanjevic, Evan Holt, Levi Ozbey and Preston Eshenko!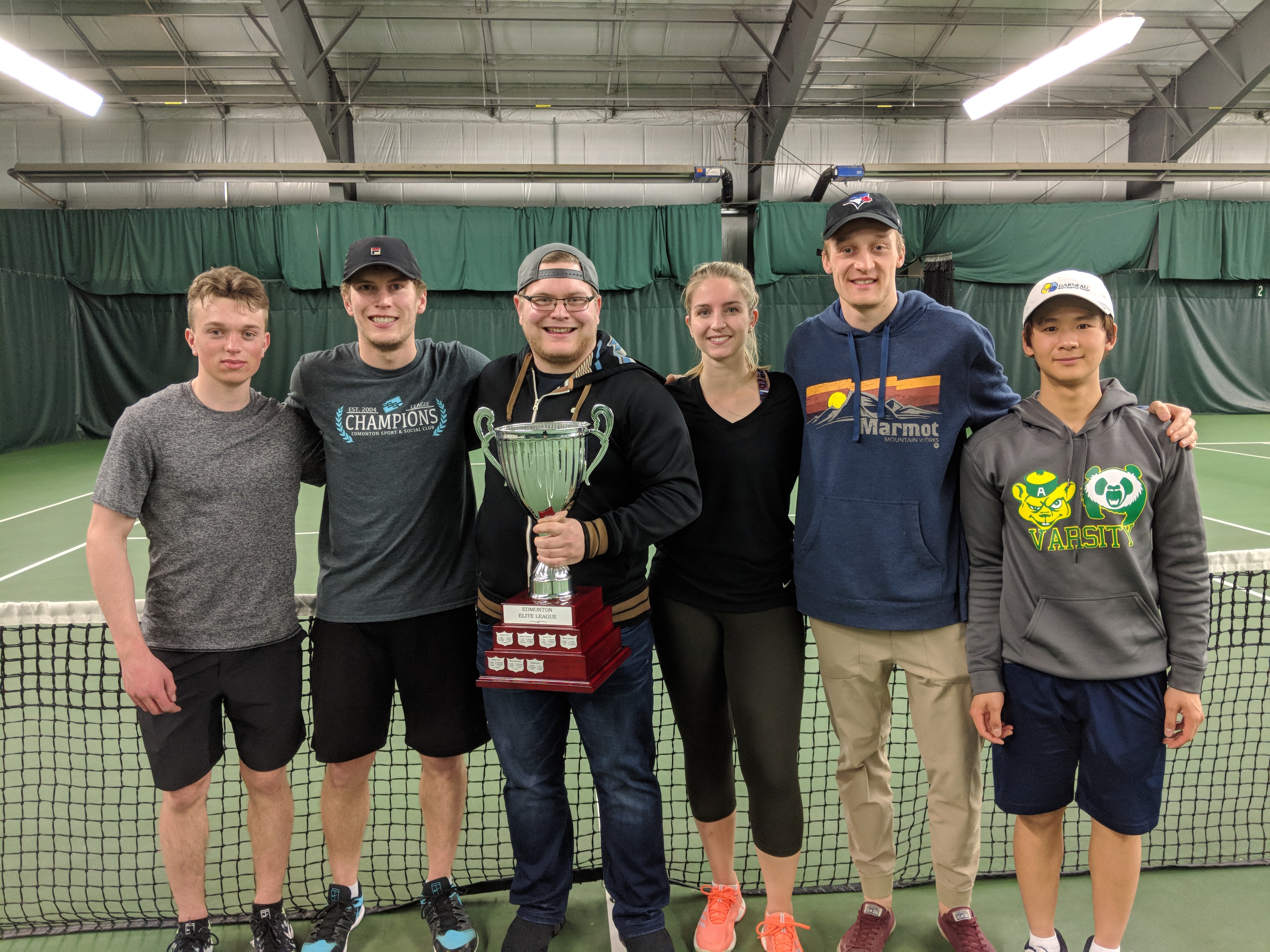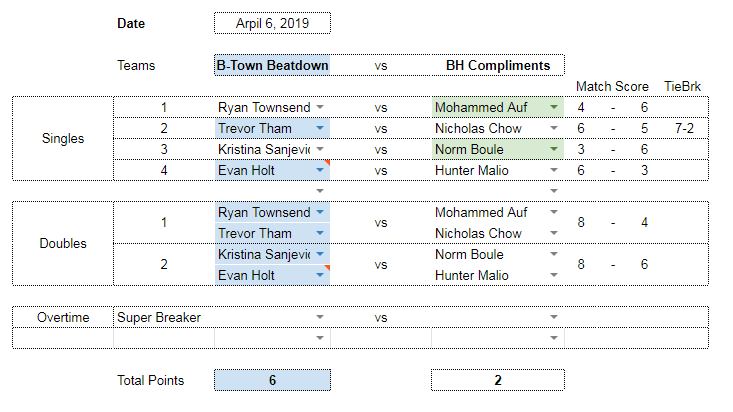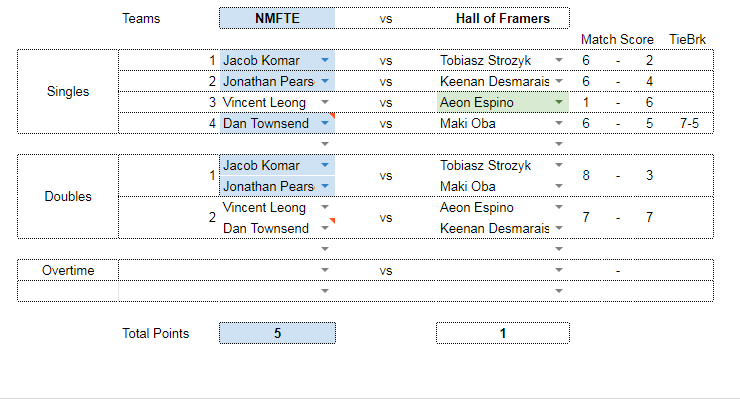 Semi-Finals: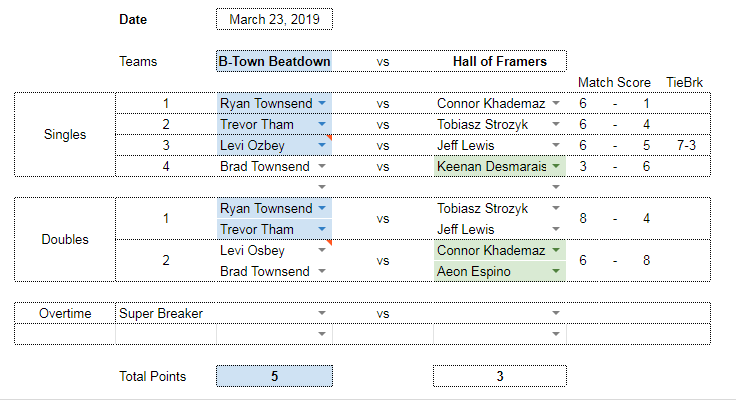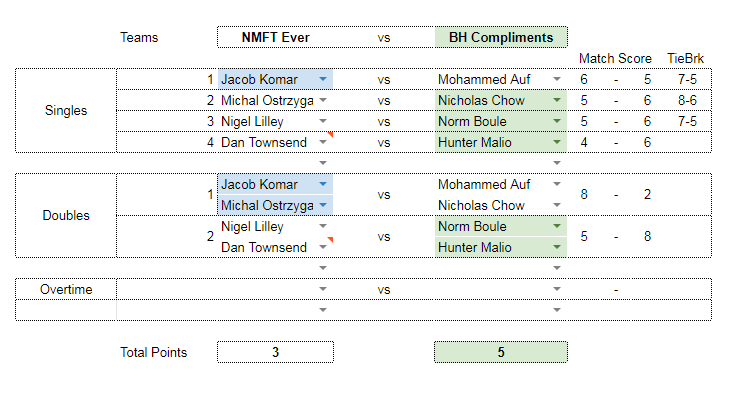 Week 5: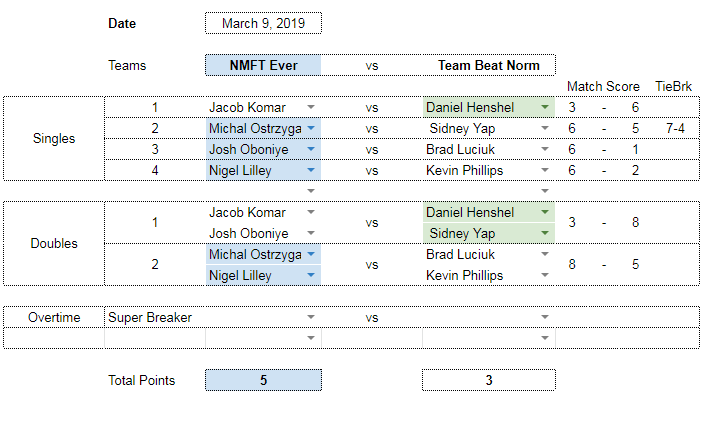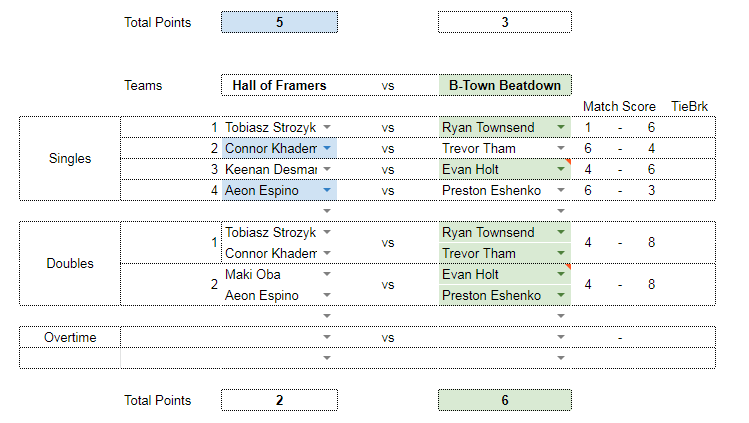 Week 4: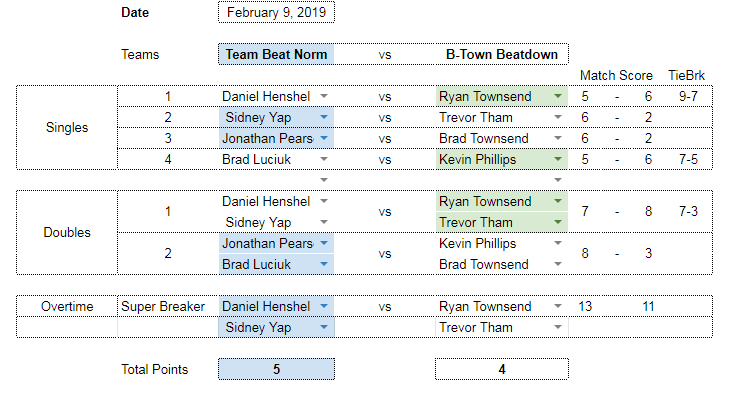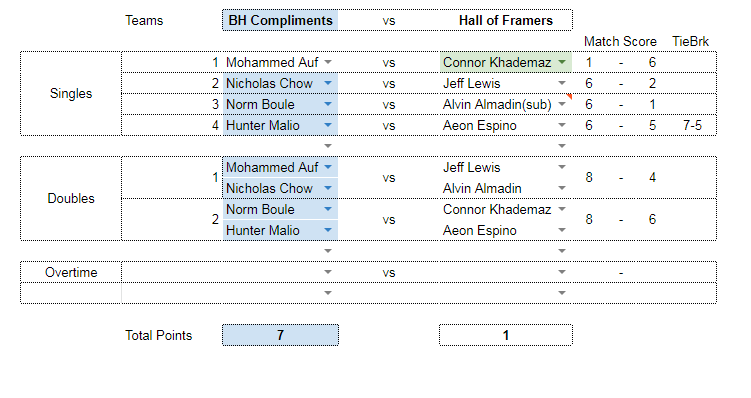 Week 3: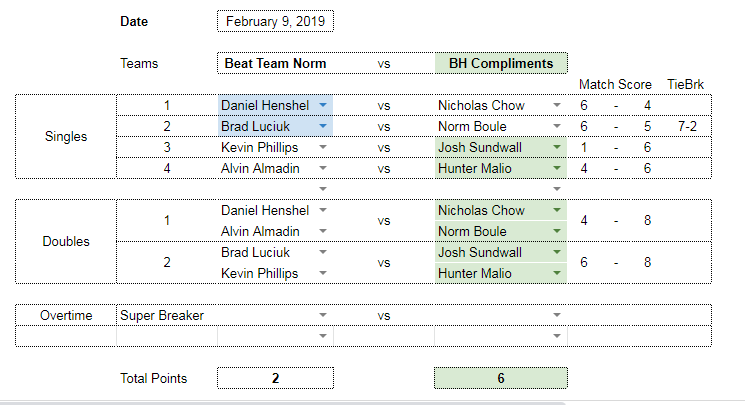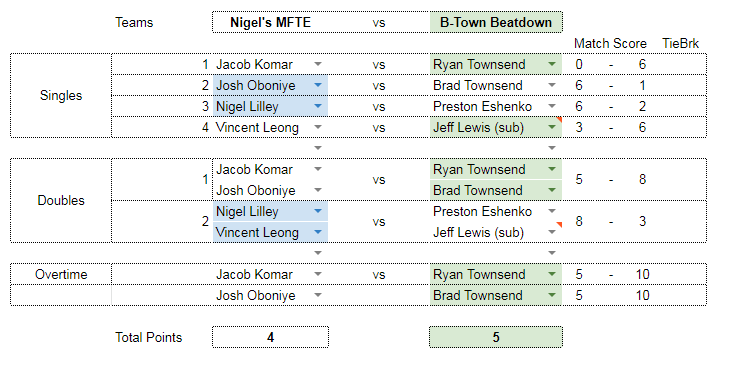 Week 2: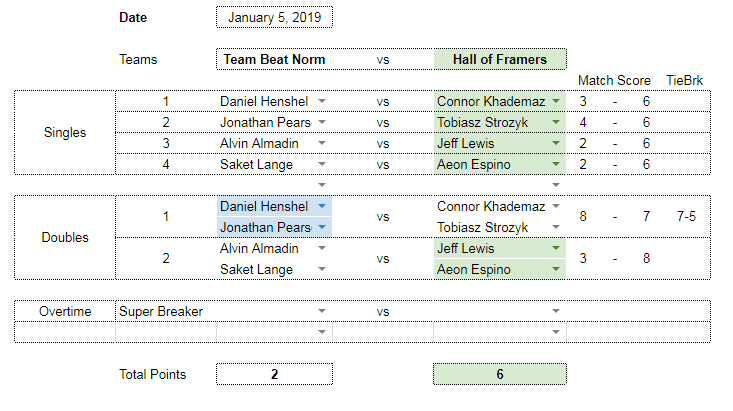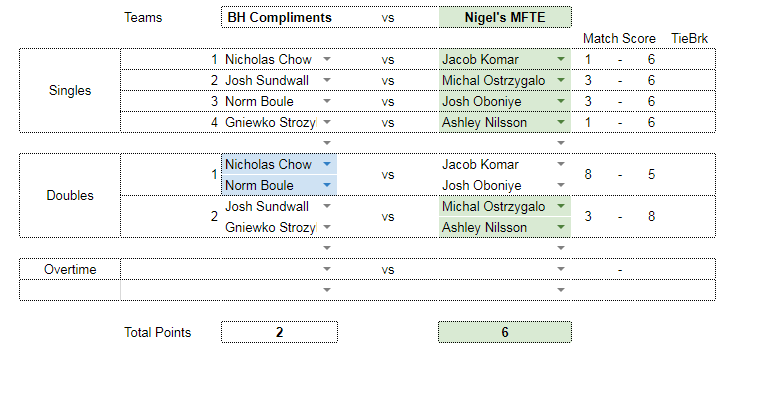 Week 1: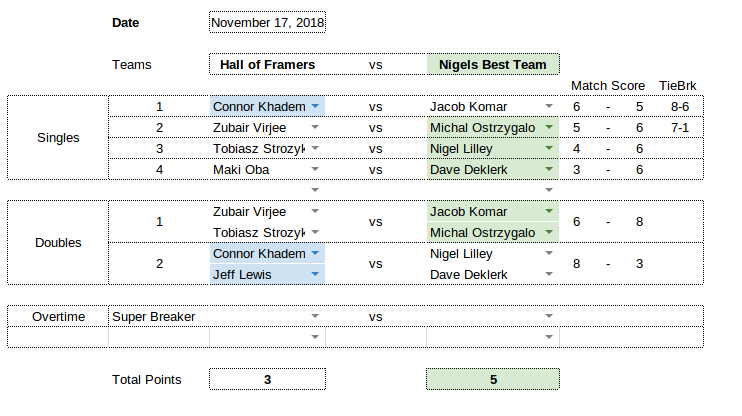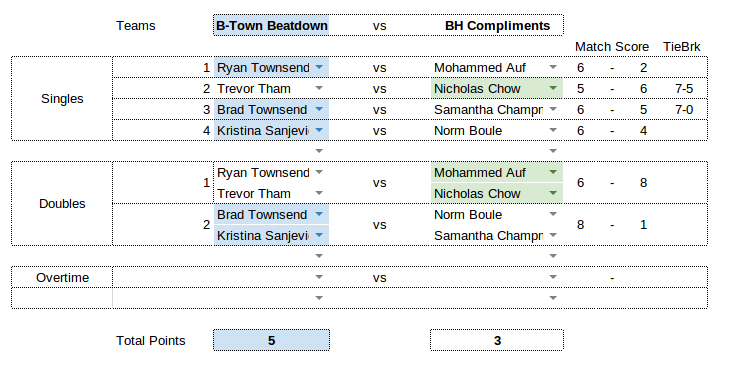 2018 Summer Elite League
Finals!:
Congrats to Backhanded Compliments for winning the 2018 Summer season! Norm Boule, Danny Wu, Ryan Townsend, Zack Perala, Trevor Tham and Hunter Mailo.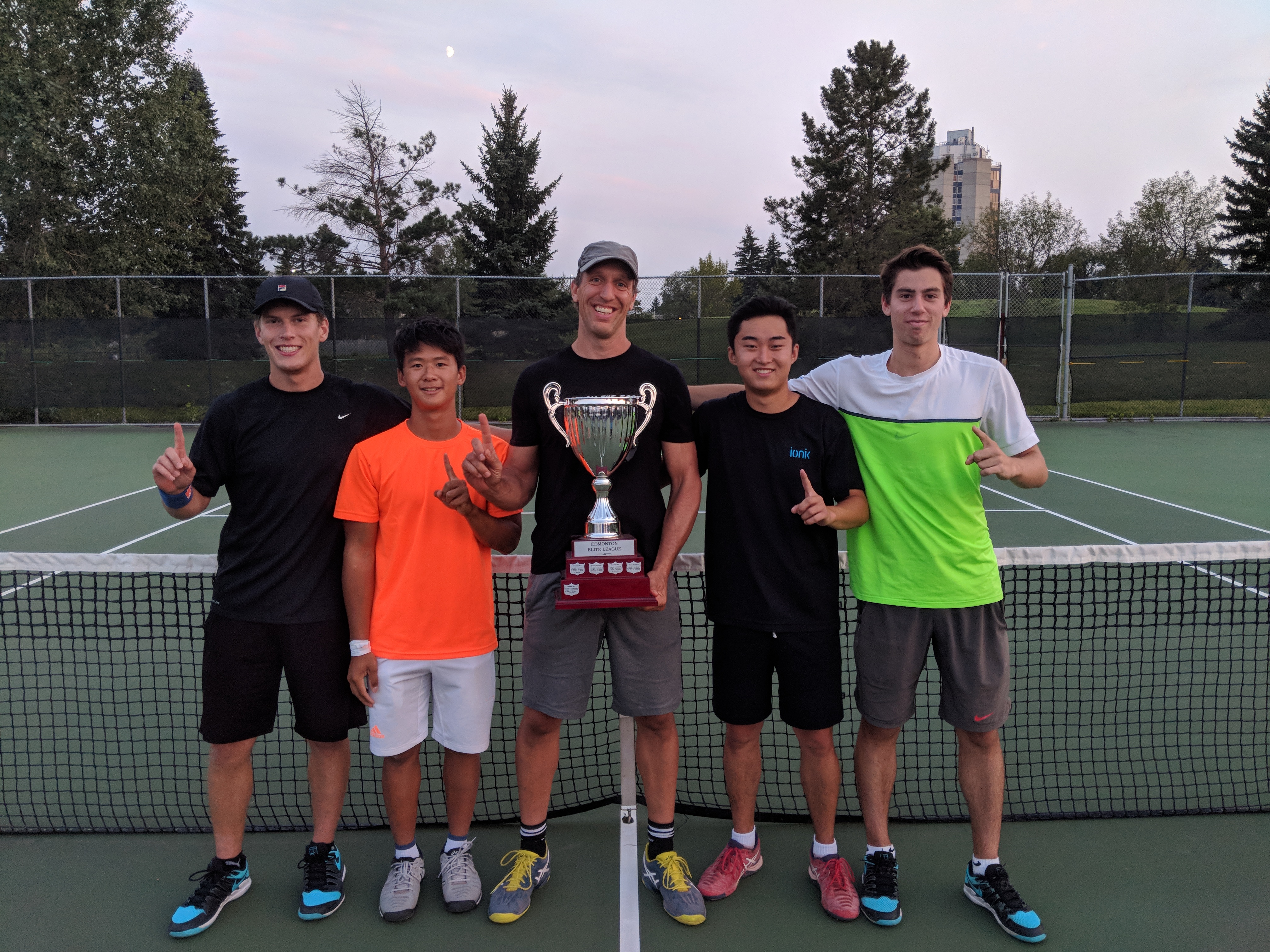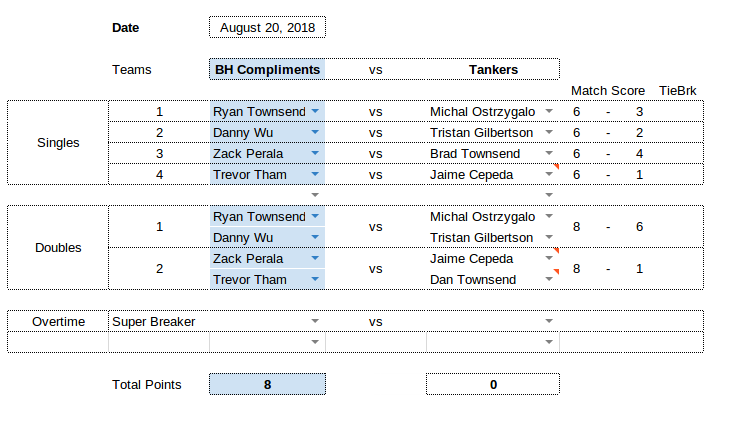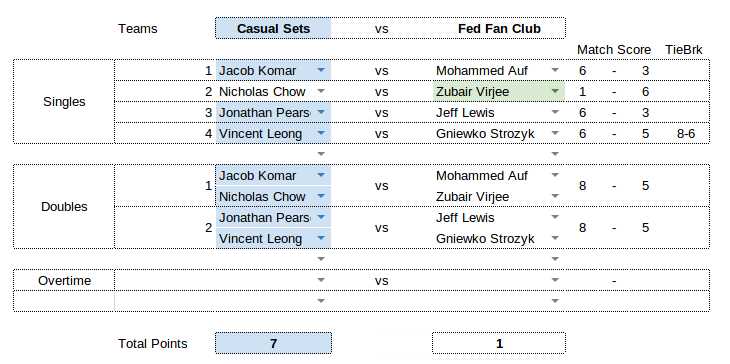 Semi Finals: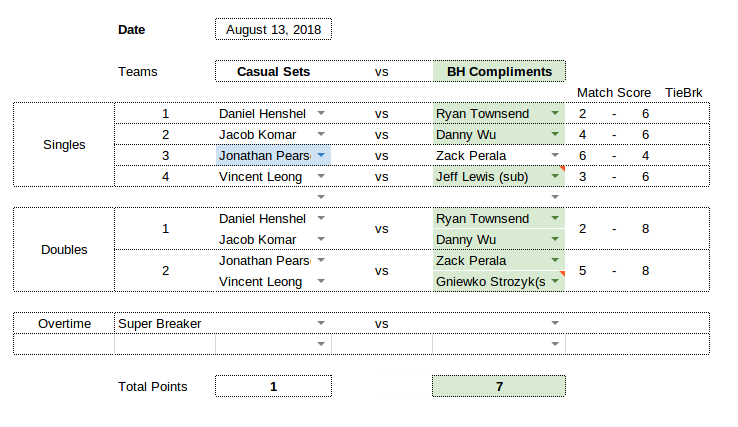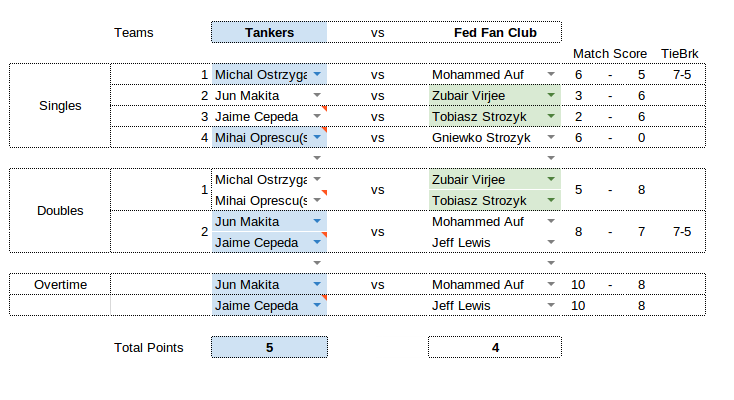 Week 5: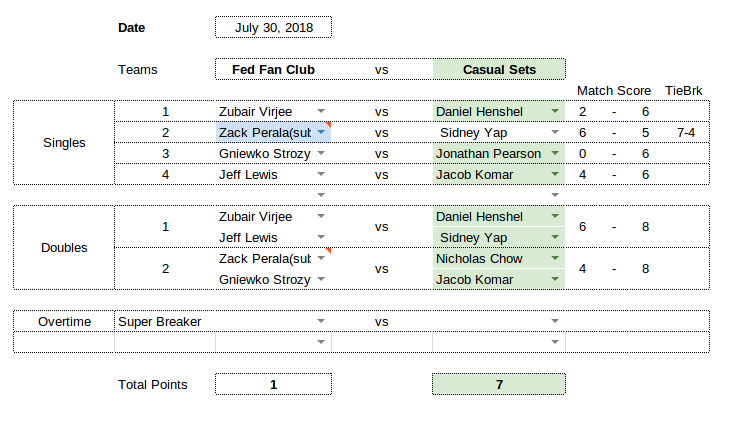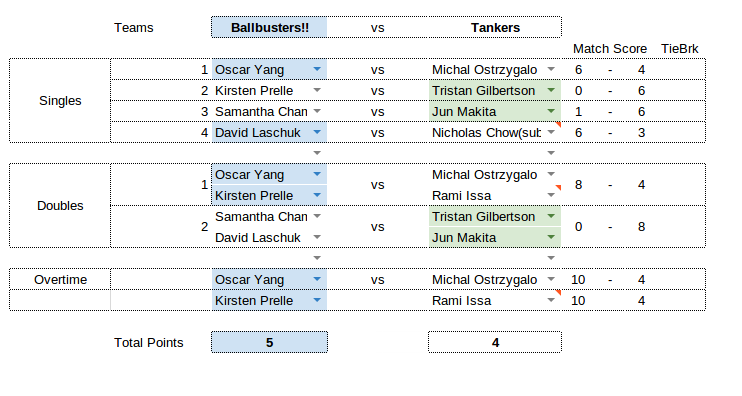 Week 4: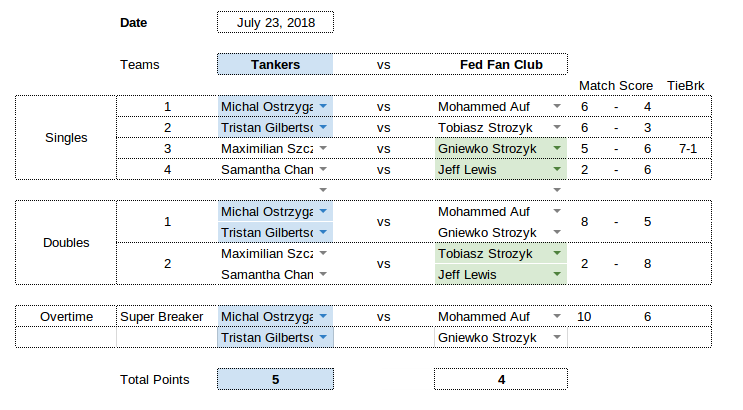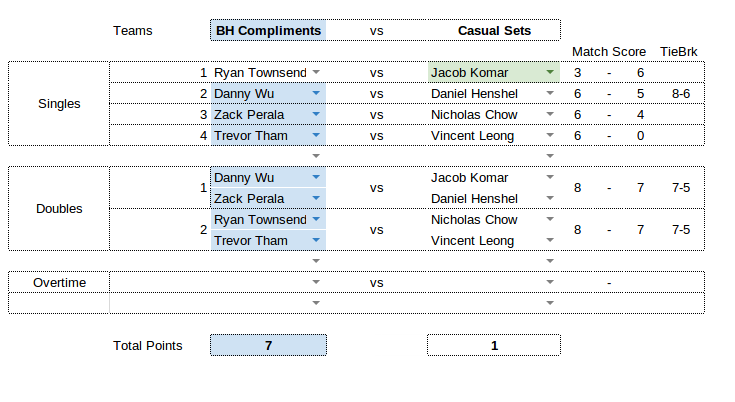 Week 3: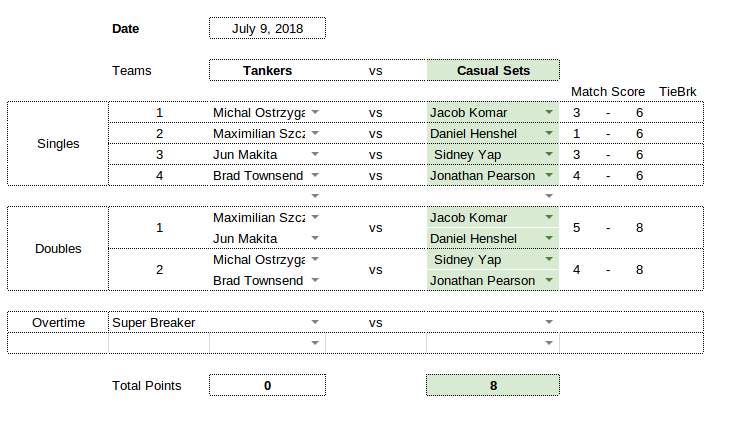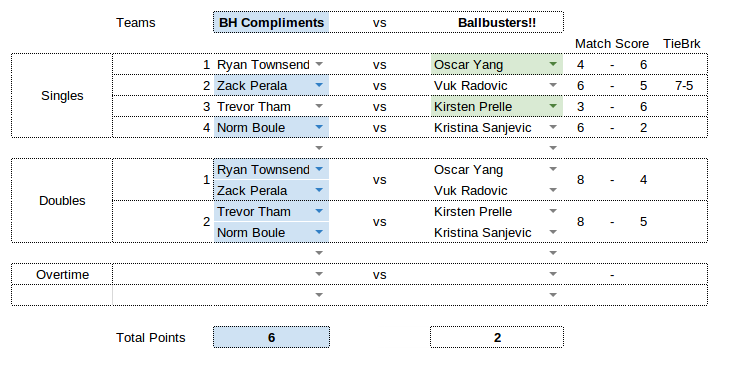 Week 2: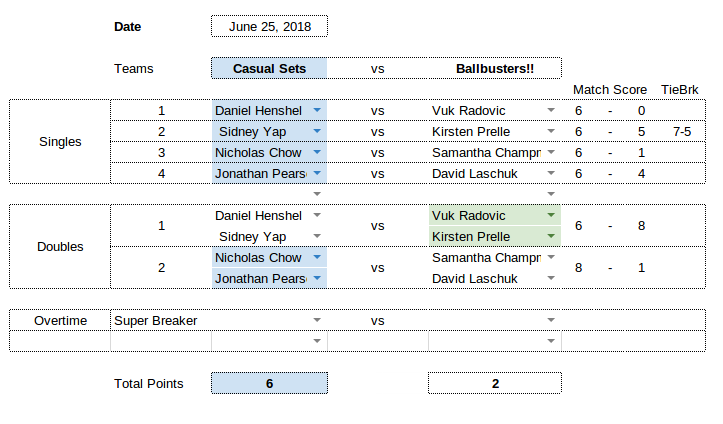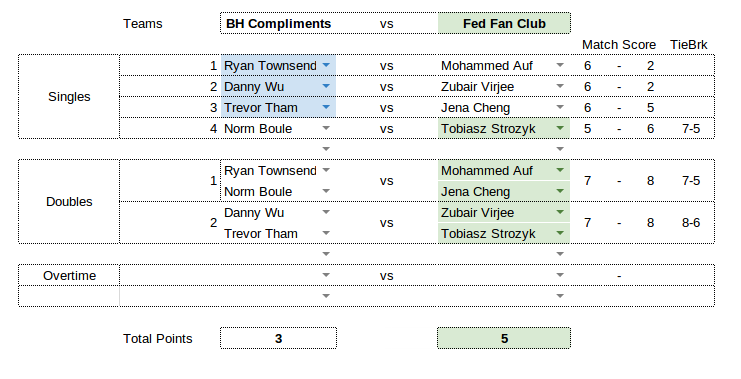 Week 1: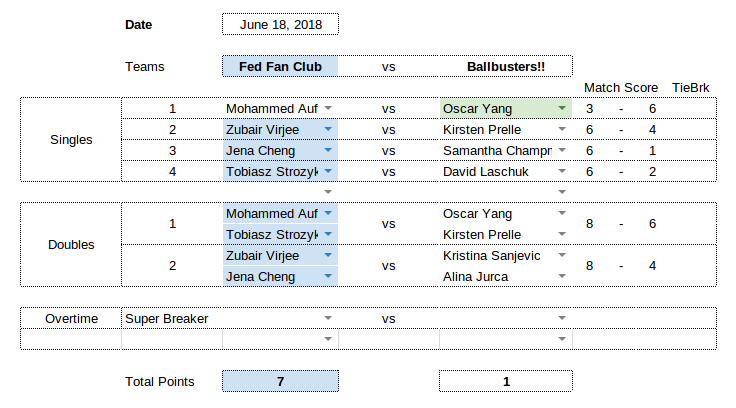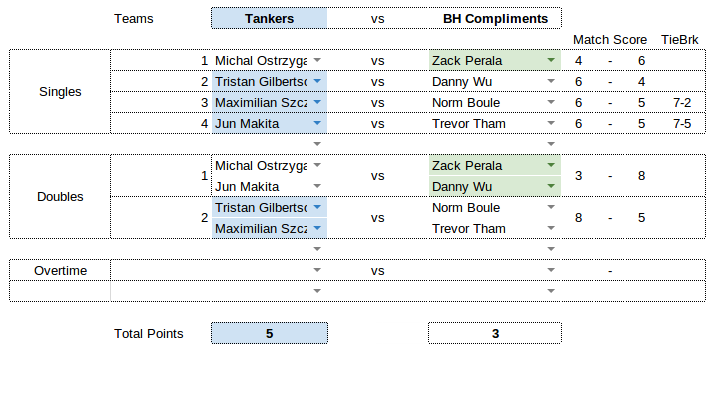 2017/2018 Winter Elite League

Finals
April 7, 2018
The 2017/2018 Winter League champions!  Fed Fan Club!  Jeff Lewis, Shaun Khambral, Jacob Komar, Tobiasz Strozyk, Nicholas Chow, Keith Lam and Gerald Acaba.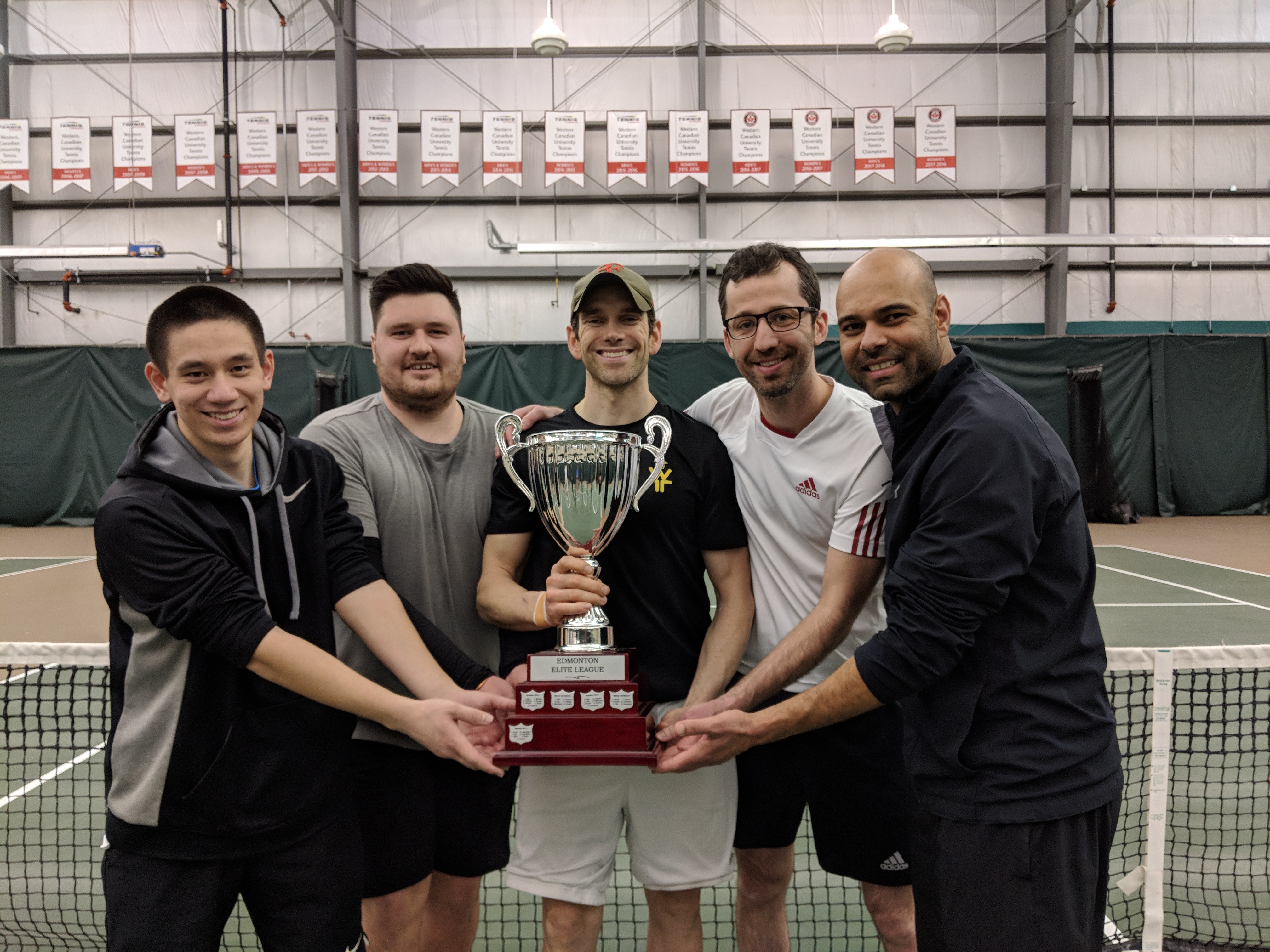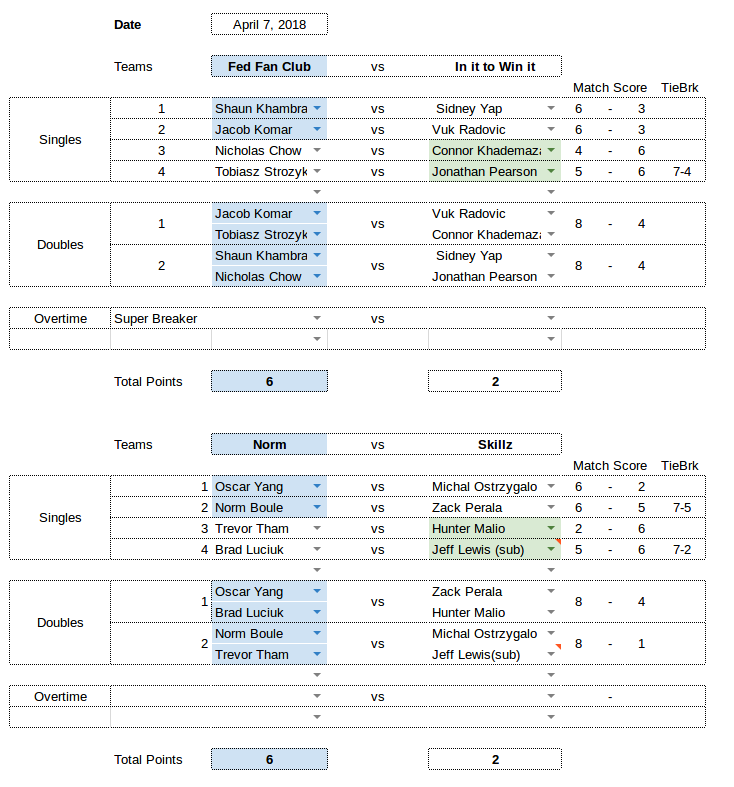 Semi-Finals
March 24, 2018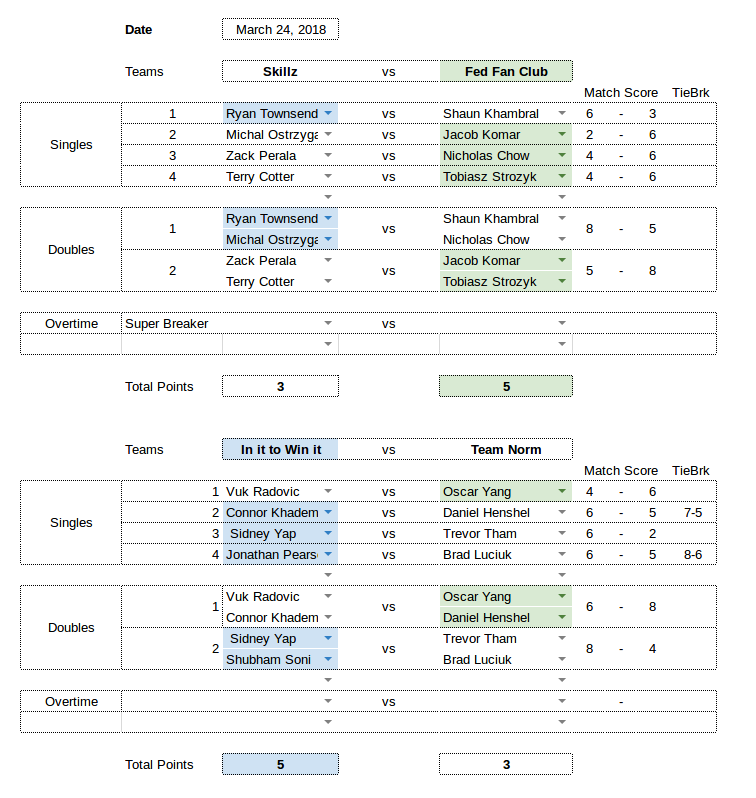 Week 5:
March 10, 2018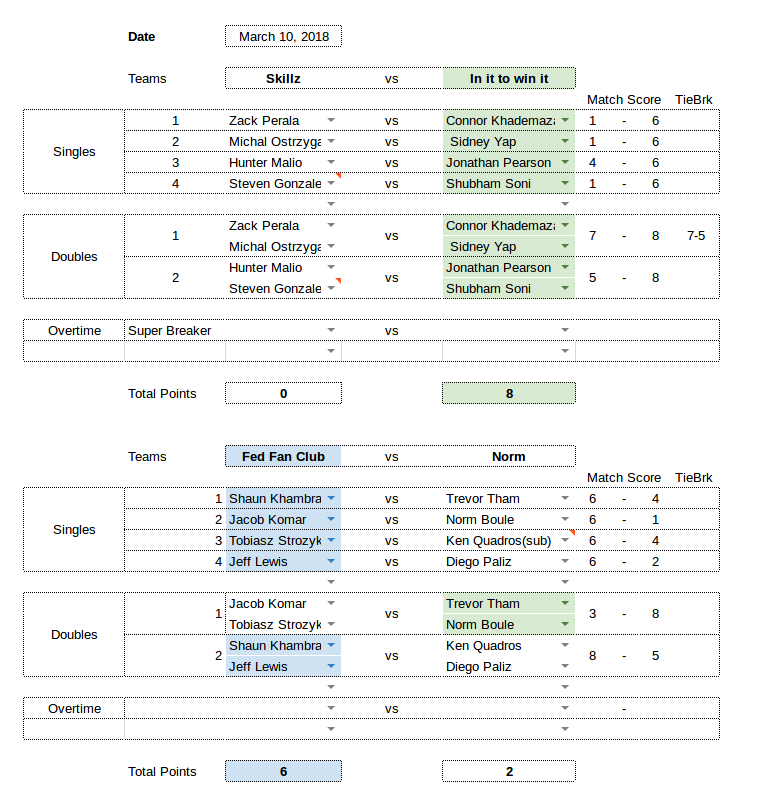 Week 4:
February 24, 2018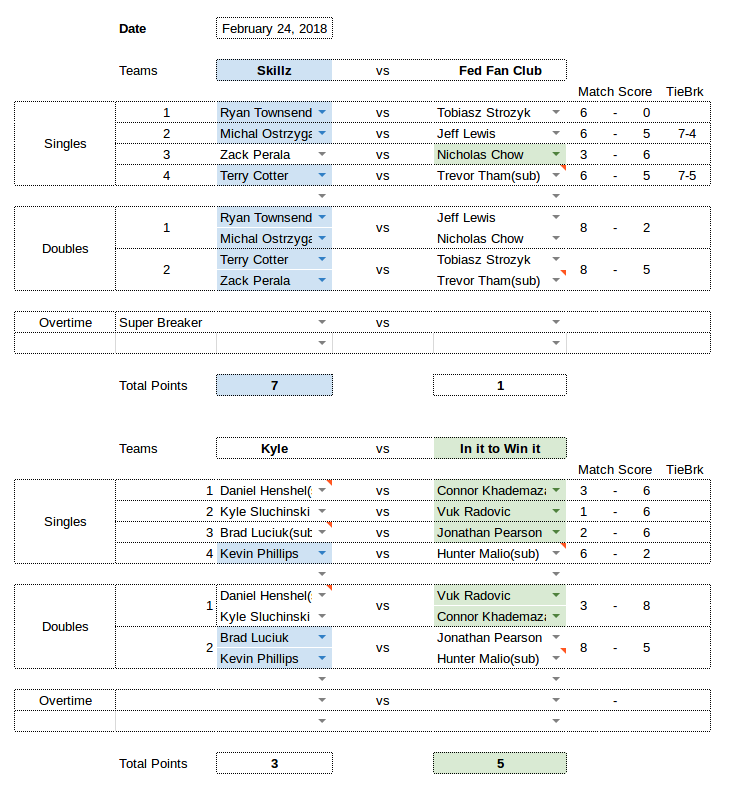 Week 3:
February 10, 2018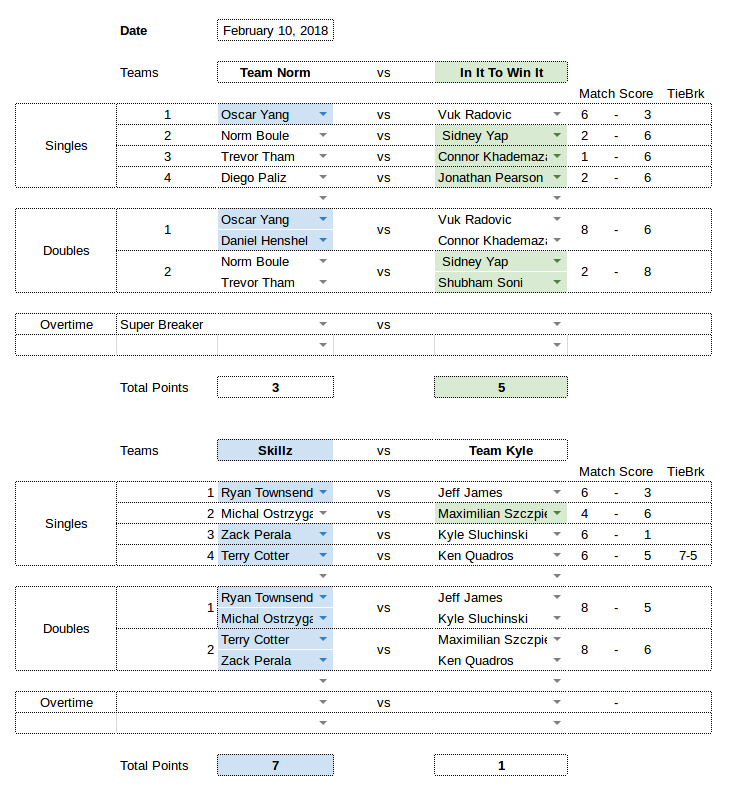 Week 2: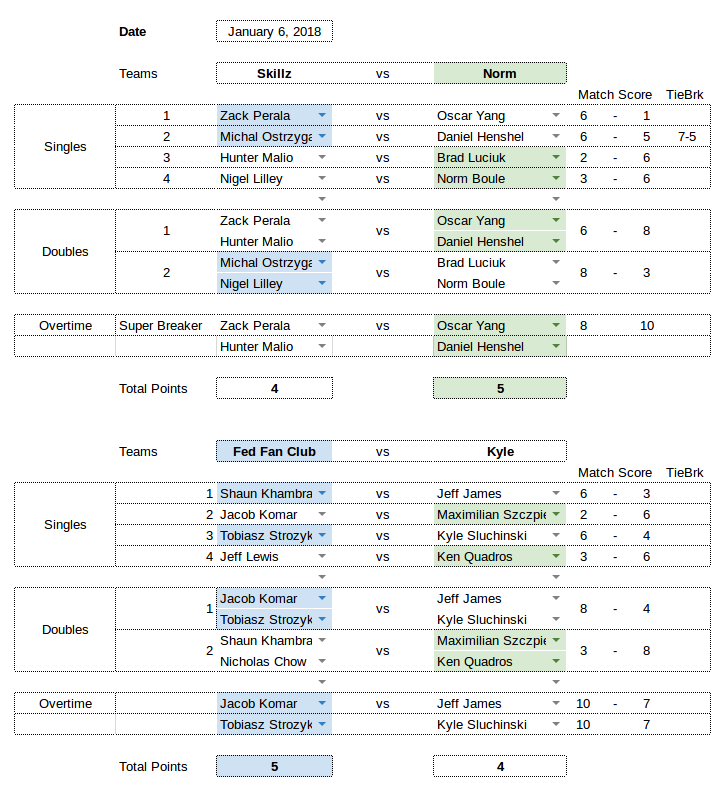 Week 1: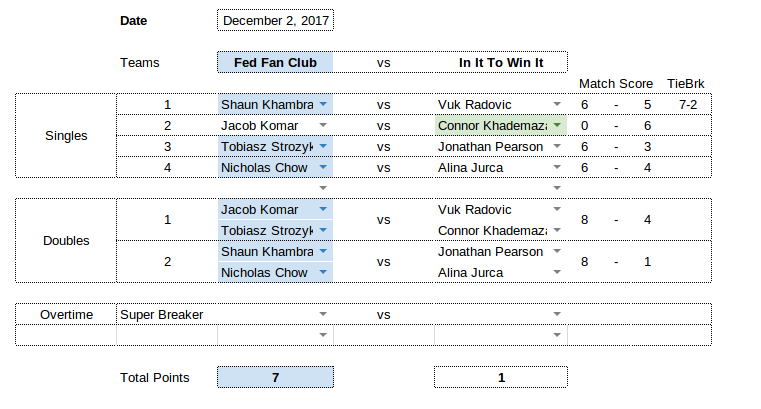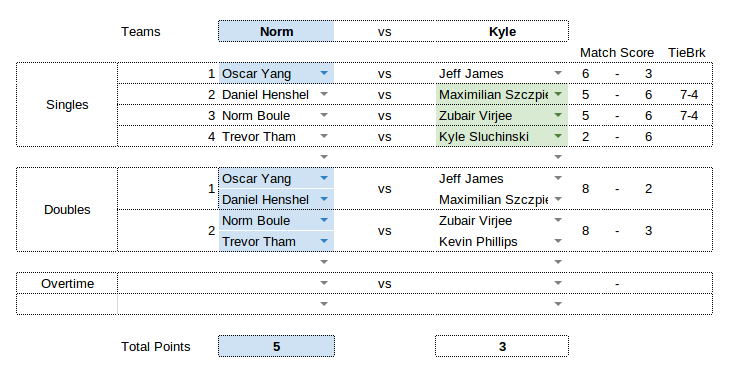 2017 Summer Elite League
August 21, 2017
Finals-
Congratulation to Team Norm for winning this season!!
Norm Boule, Danny Wu, Zubair Virjee, Michal Ostrzygalo, Kyle Sluchinski, Trevor Tham, Jaime Cepeda!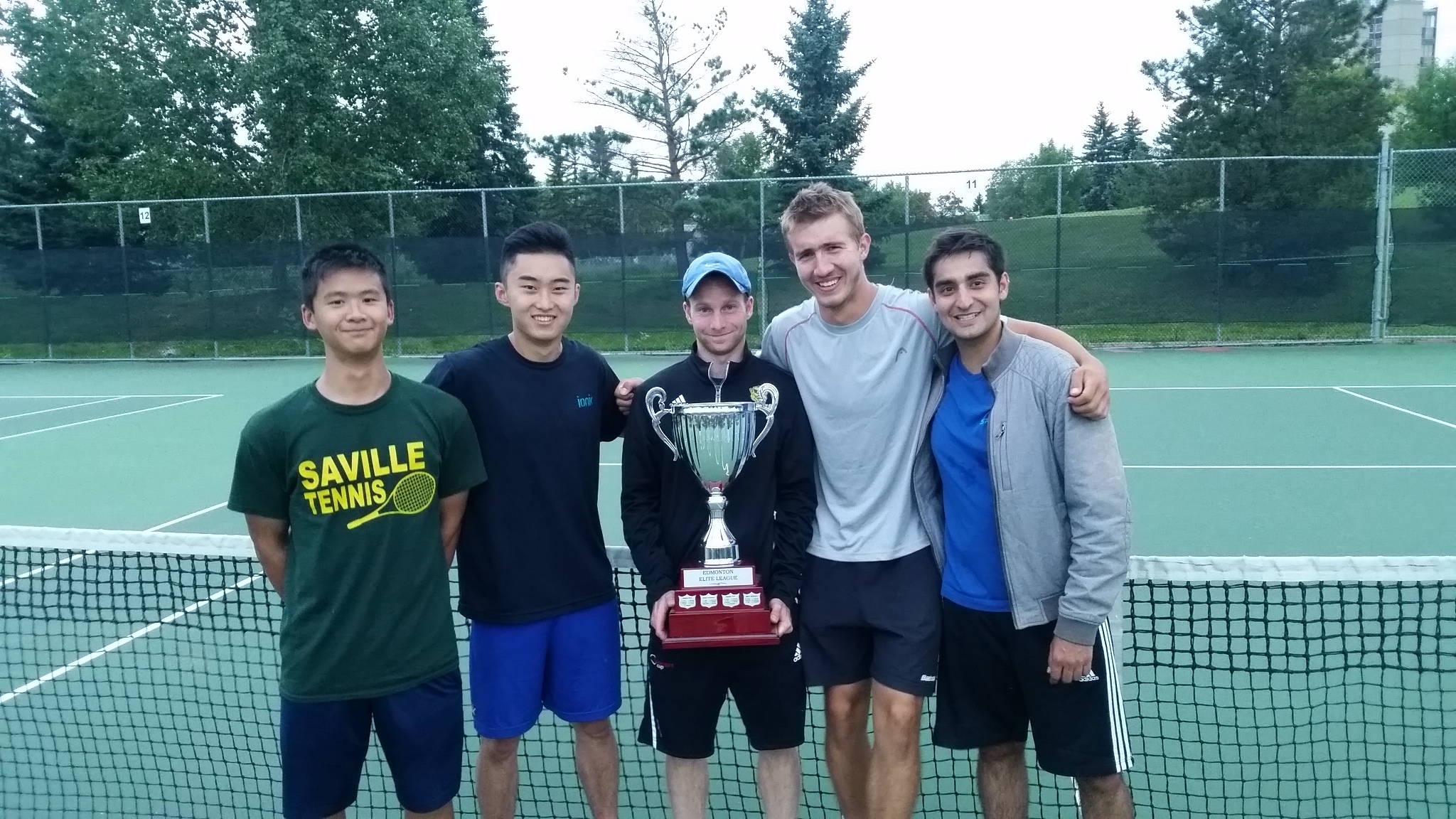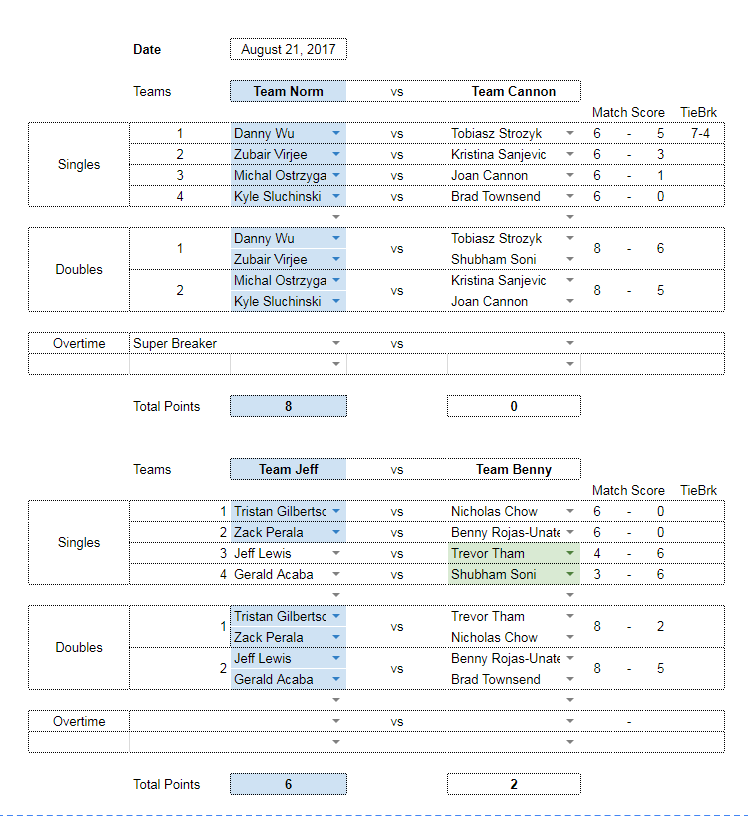 August 14, 2017
Semi Finals-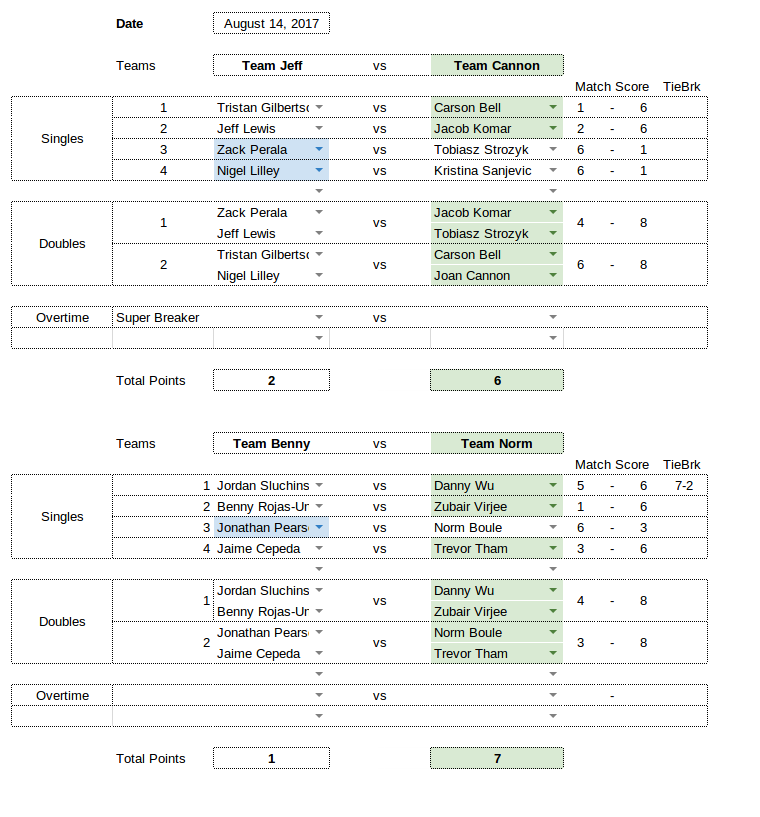 July 31, 2017
Week 5: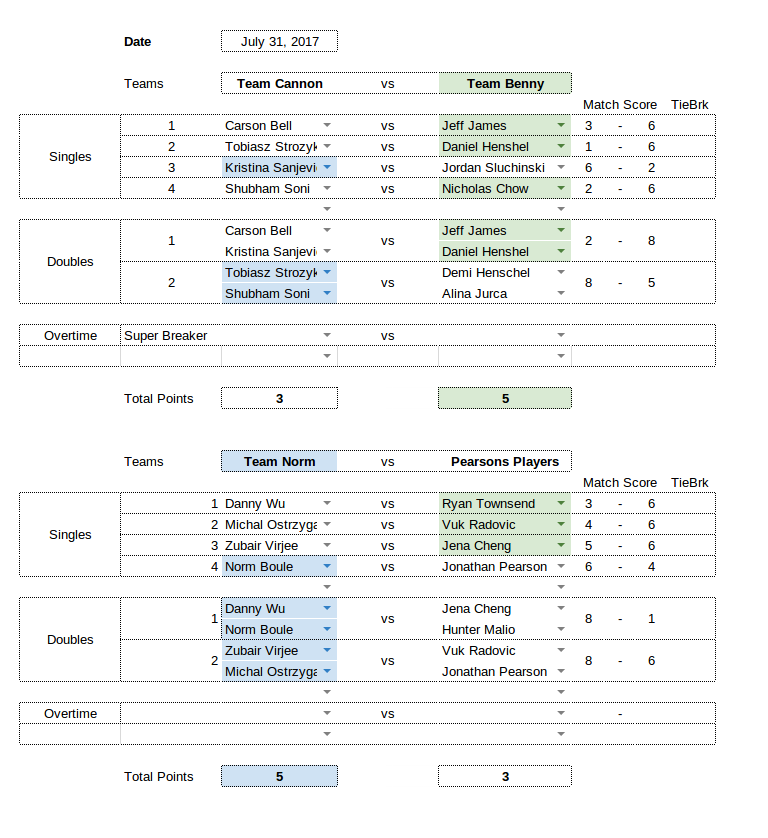 July 17, 2017
Week 4: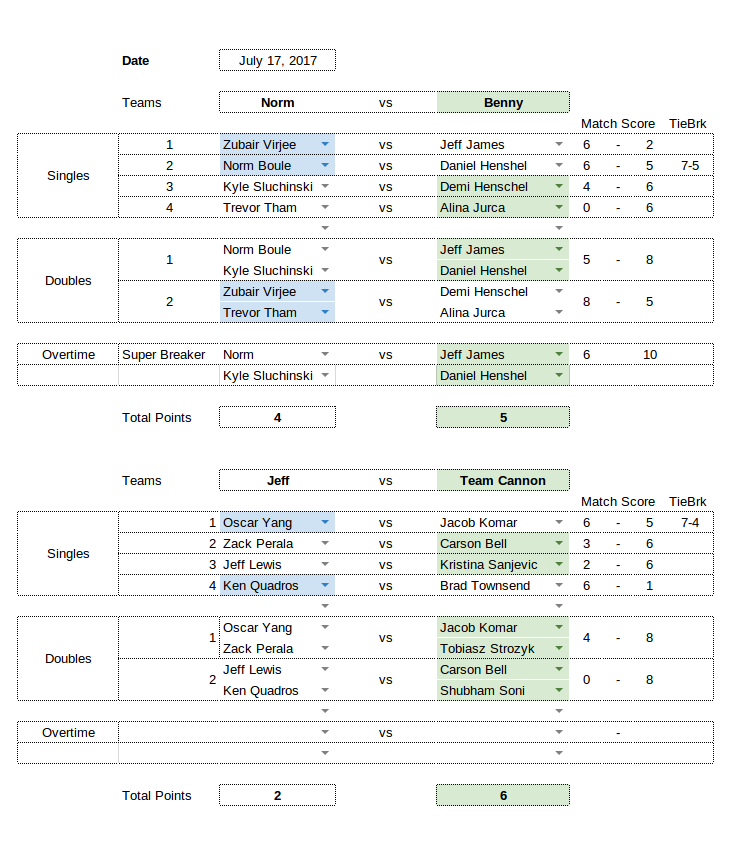 July 10, 2017
Week 3: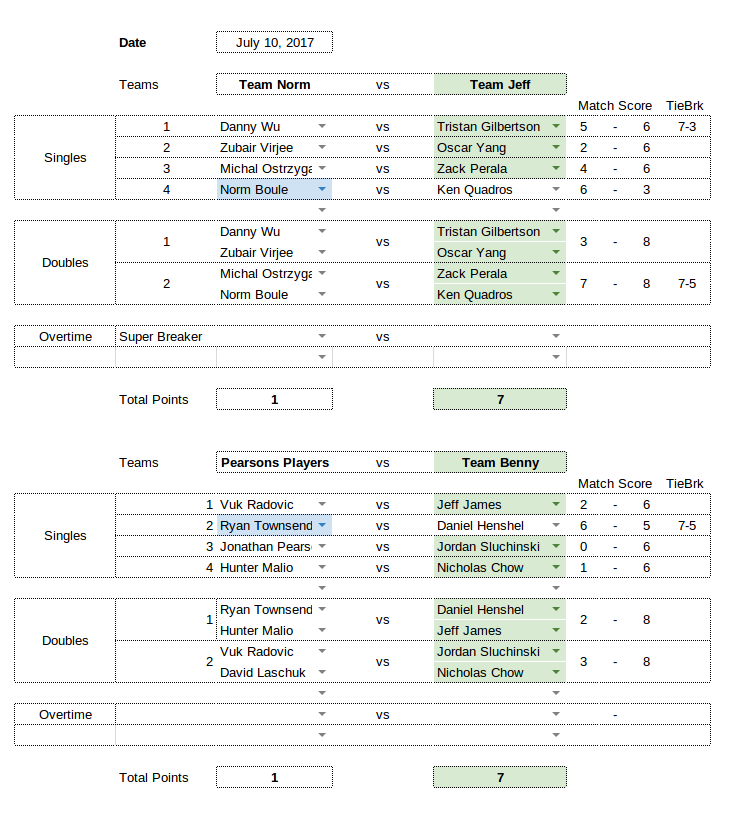 July 3, 2017
Week 2: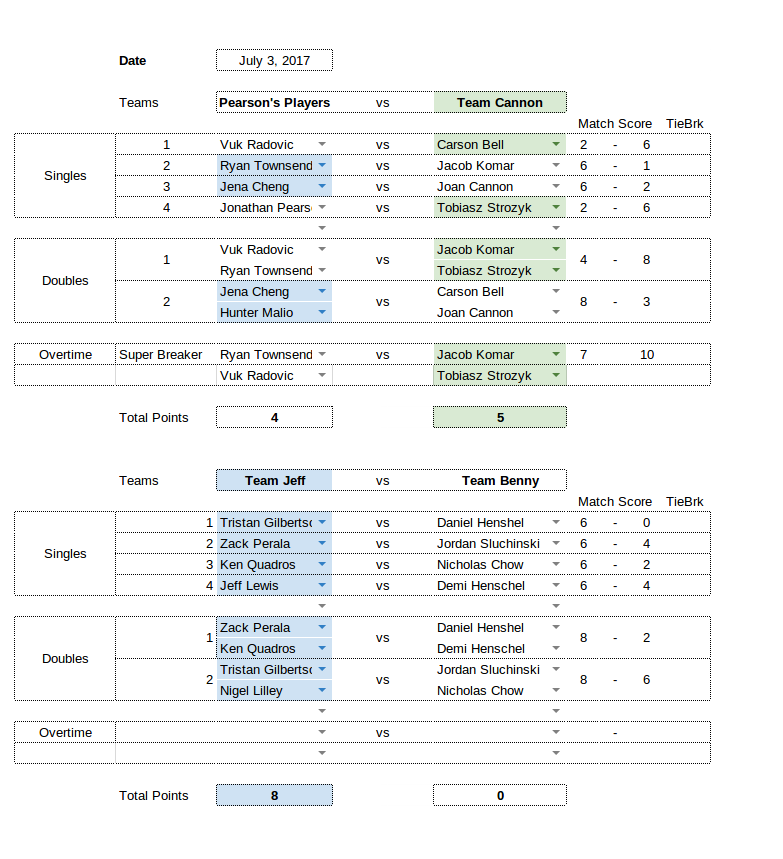 June 19,2017
Week 1:
016/2017 Winter Elite League Results

Finals!!
April 8,2017
Congrats to Norms team for the championship win!!  
Norm Boule, Vuk Radovic, Sidney Yap, Jeff James, David Crowther and Simon Gosgnach!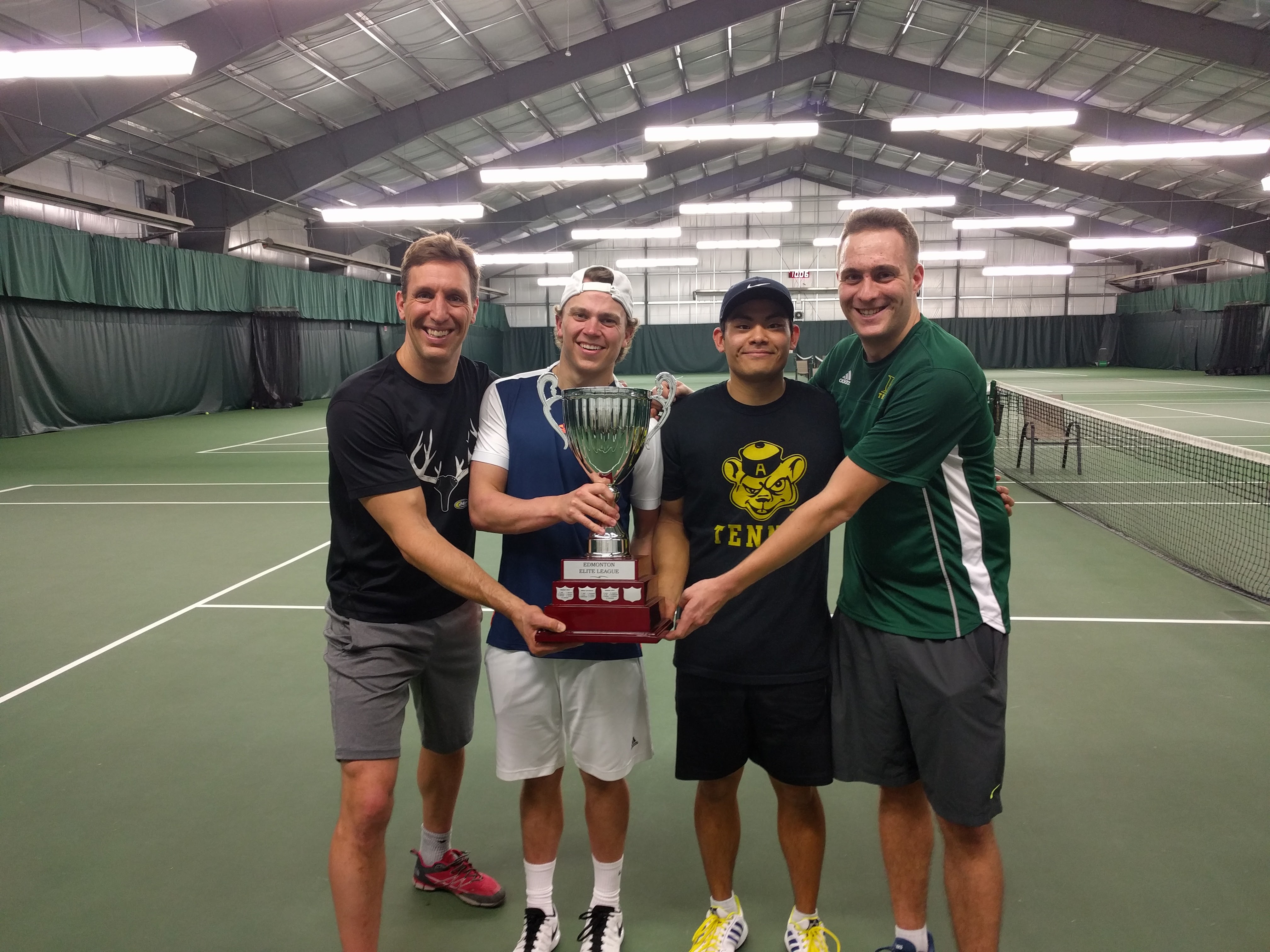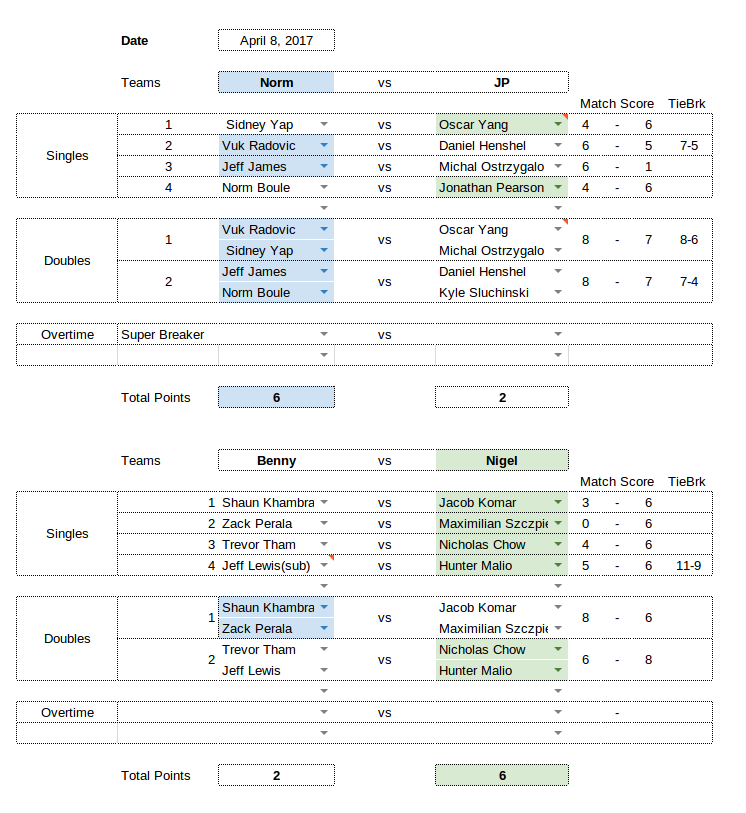 Semi-Finals 
March 18,2017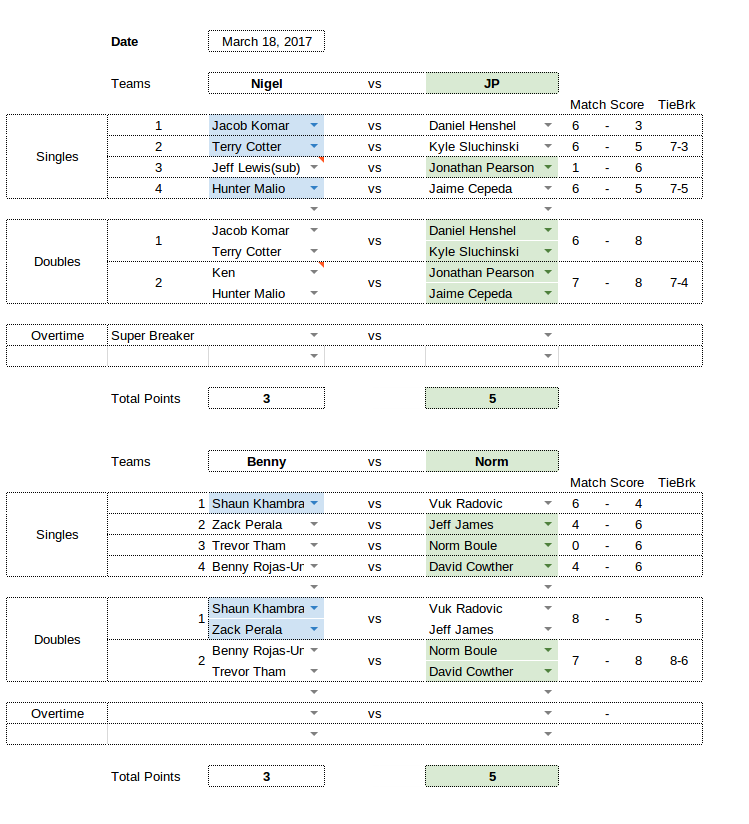 Week 5, Feb 25 2017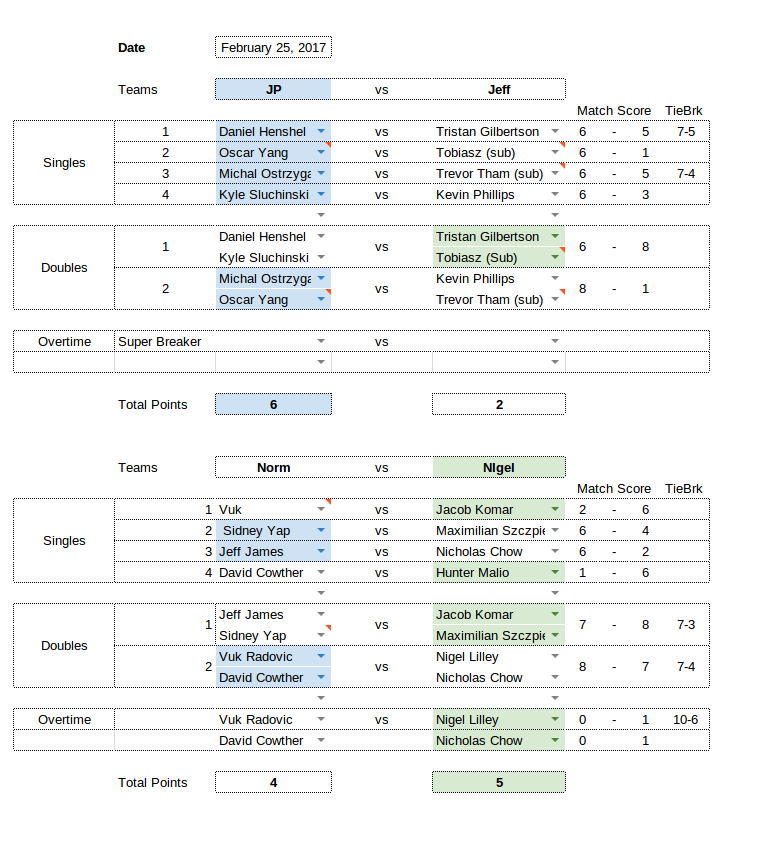 Week 4, January 21, 2017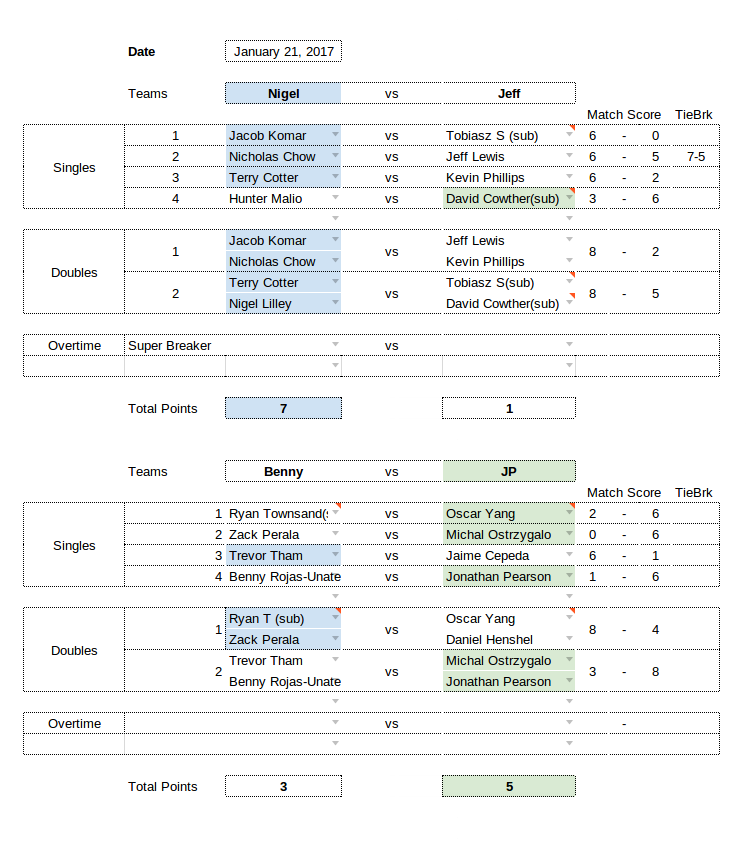 Week 3, January 7,2017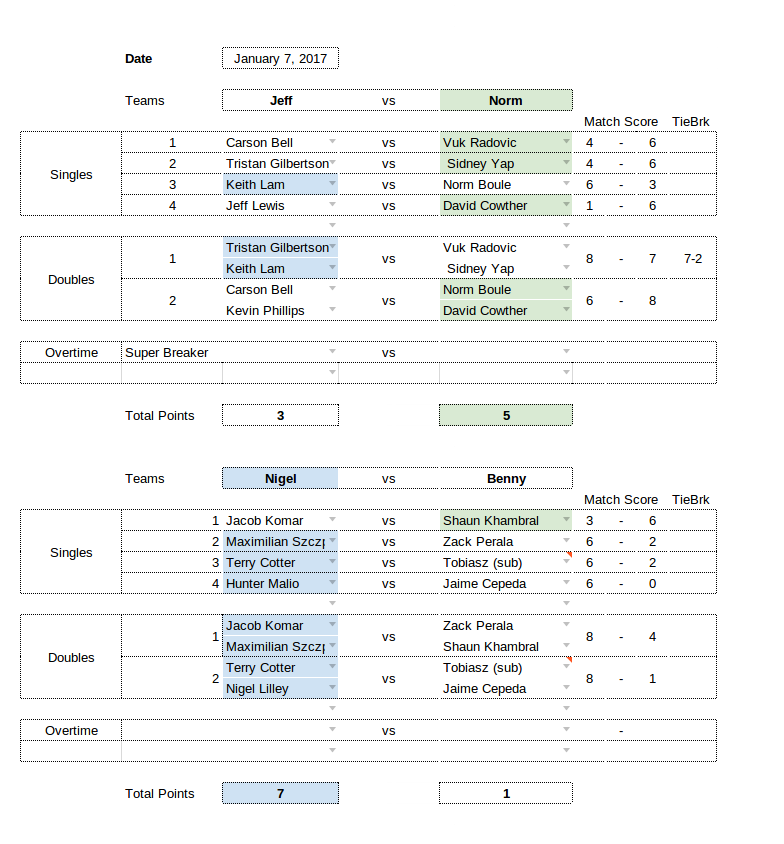 Week 2: December 3, 2016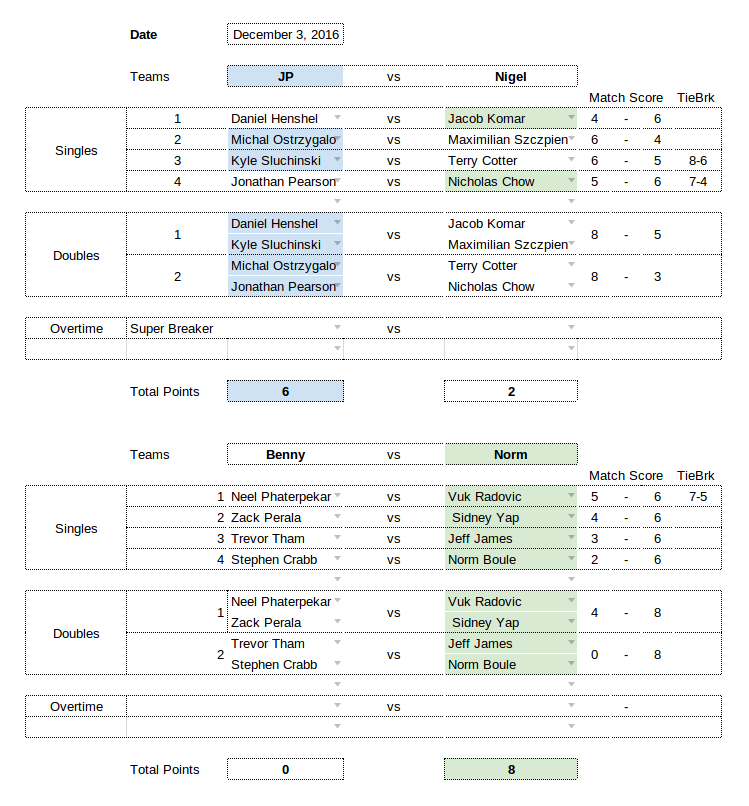 Week 1: November 12, 2016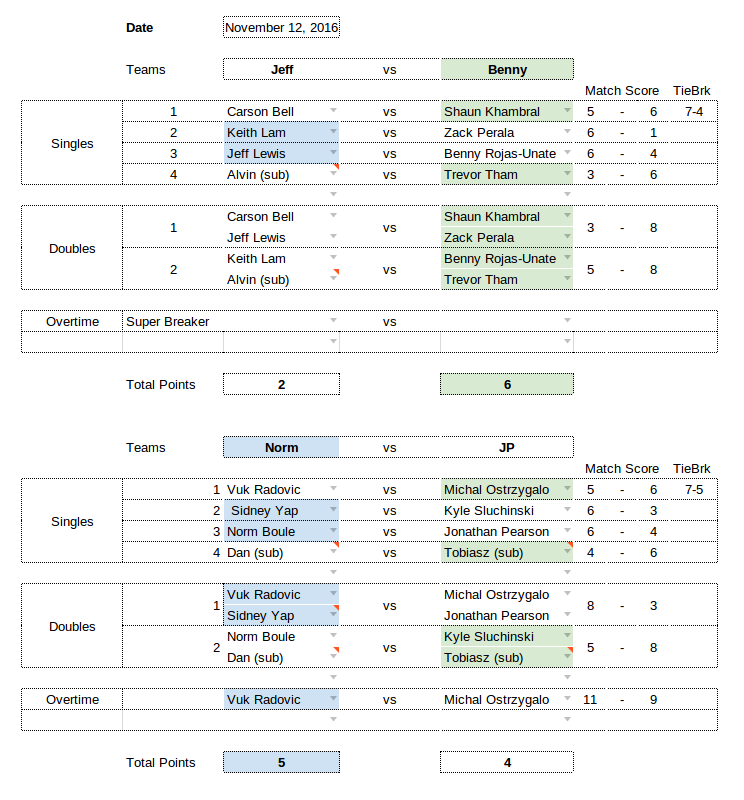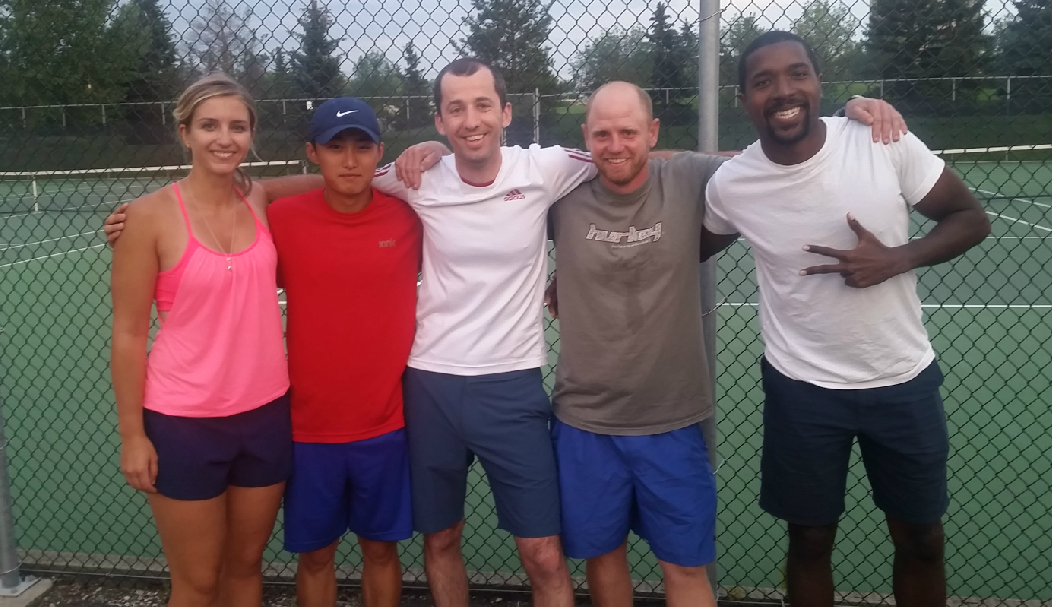 RECENT LEAGUE RESULTS:
2016 Summer Elite League:
Congrats to Team Nigel  (Champs) for winning the 2016 summer season!  Danny Wu, Jacob, Kristina, Matt, Stu, Erika and Nigel! 
Finals August 8, 2016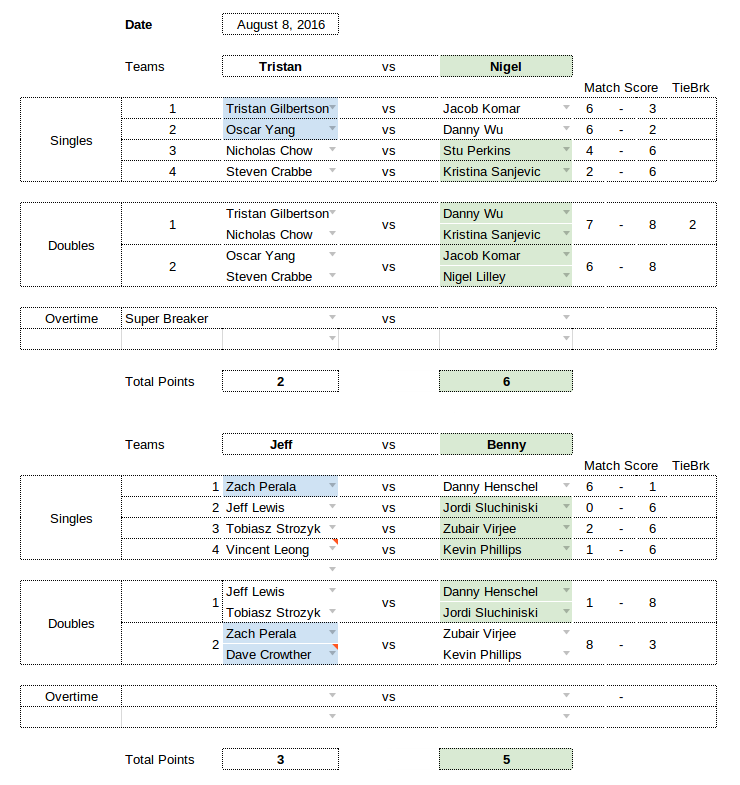 Semi Finals: July 25, 2016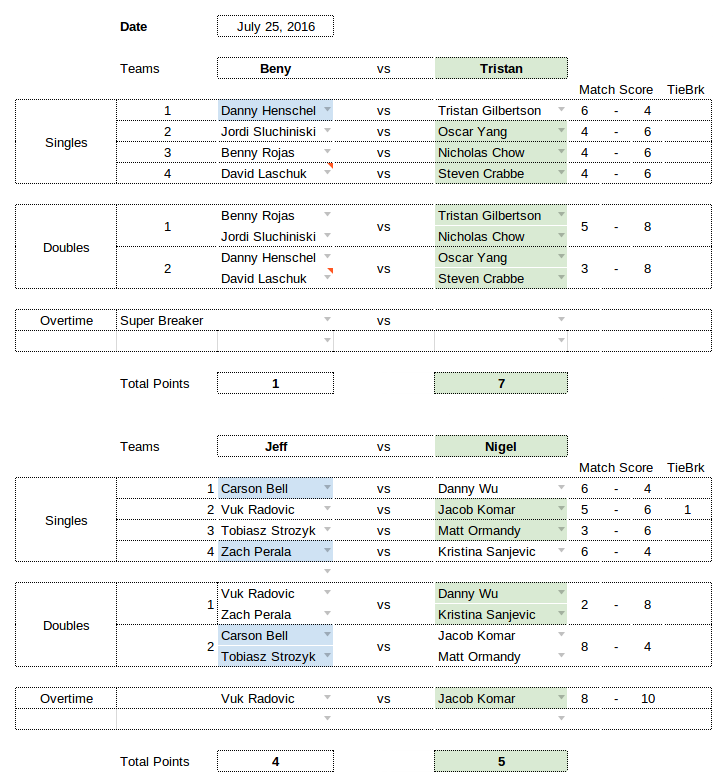 Week 5:  July 18, 2016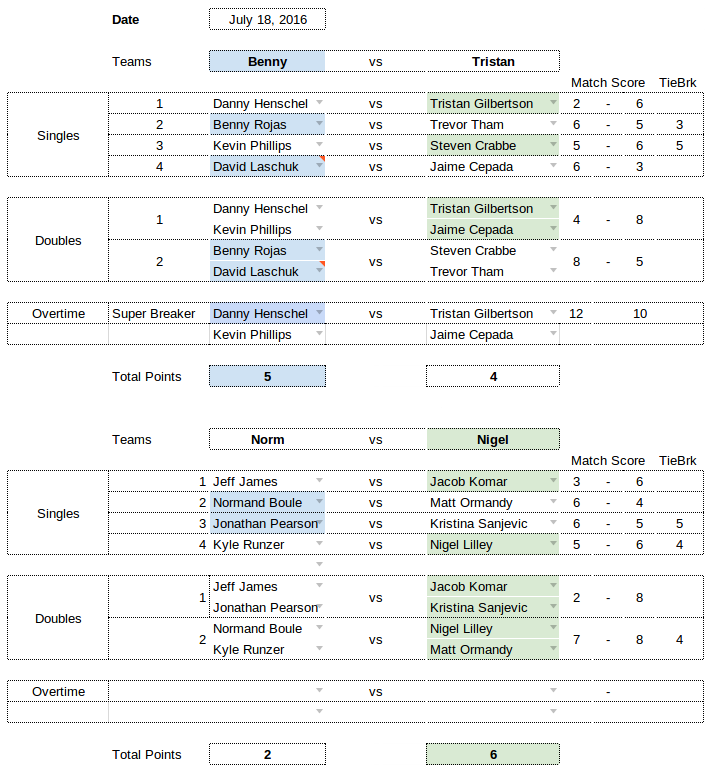 Week 4: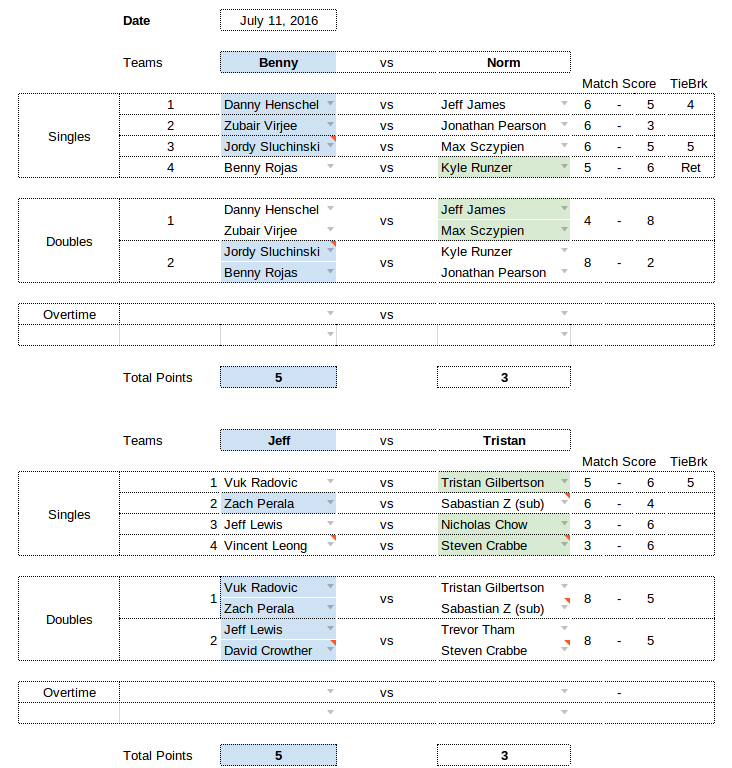 Week 3:
Week 2: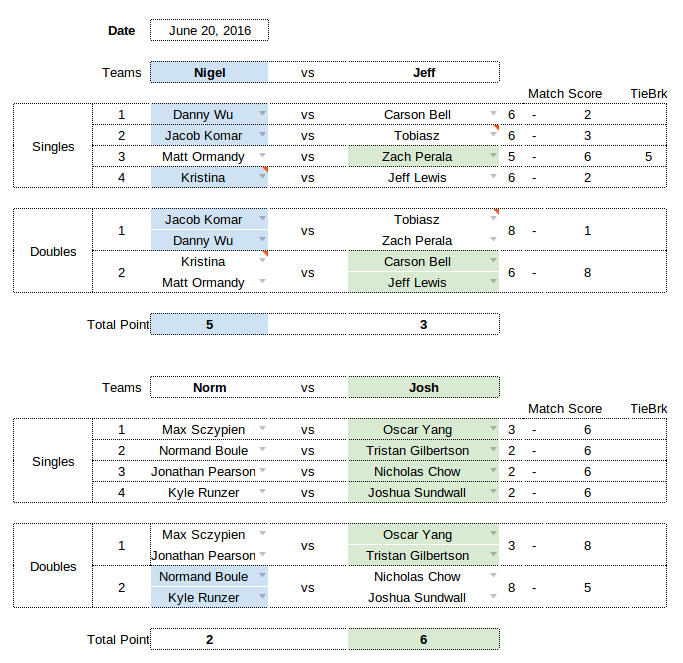 Week 1: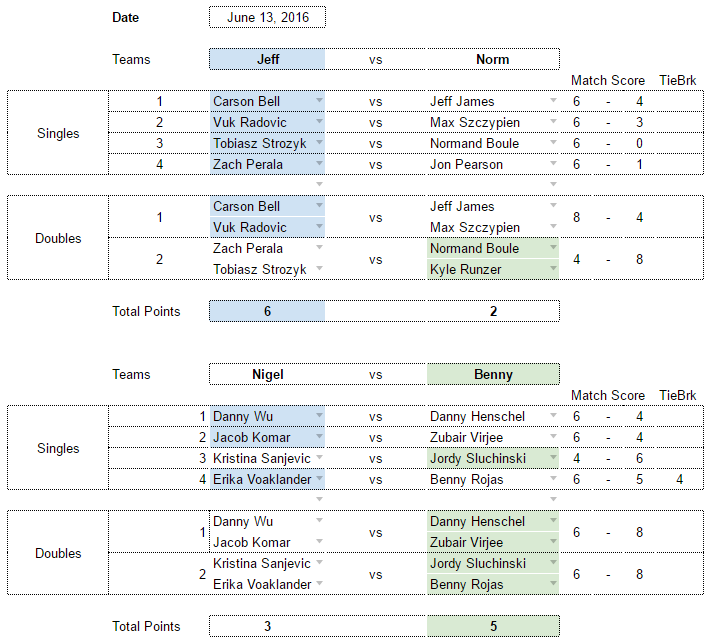 ARCHIVE (WINTER 2015):
Week 7 (Finals):
Congratulations to Team Carson for winning another Elite League by beating Team Terry 5-3.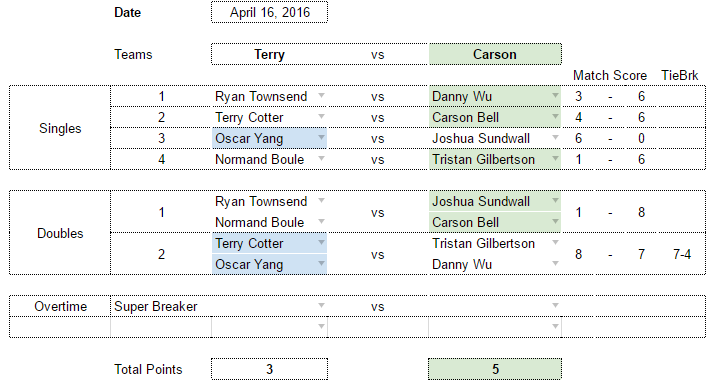 Week 6:
The finals are set....Team Carson and Team Terry emerged victorious to set up a battle of the top two teams from the regular season.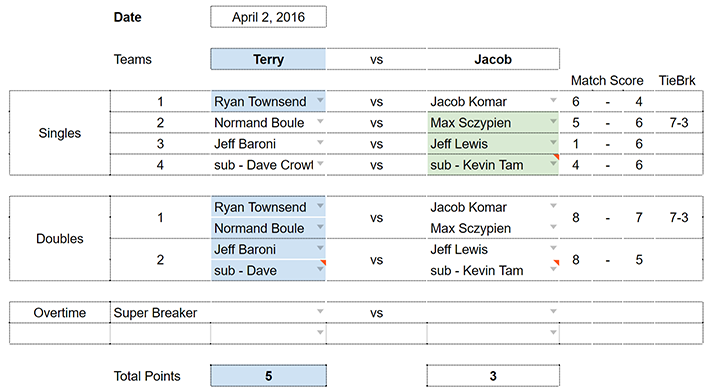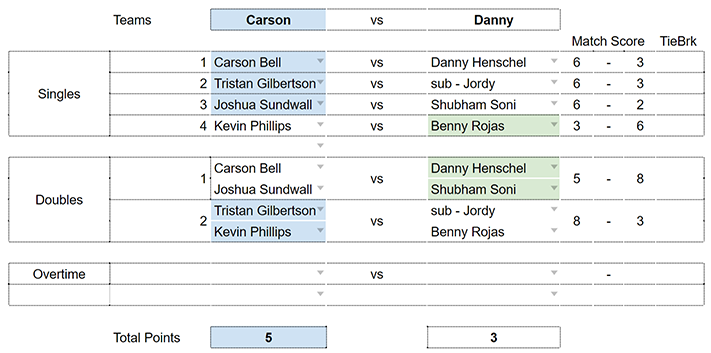 Week 5:
Another superbreaker this week with Team Danny beating Team Matt. And Team Terry clinches the number 1 spot with a win over Team Carson, the playoff picture is set.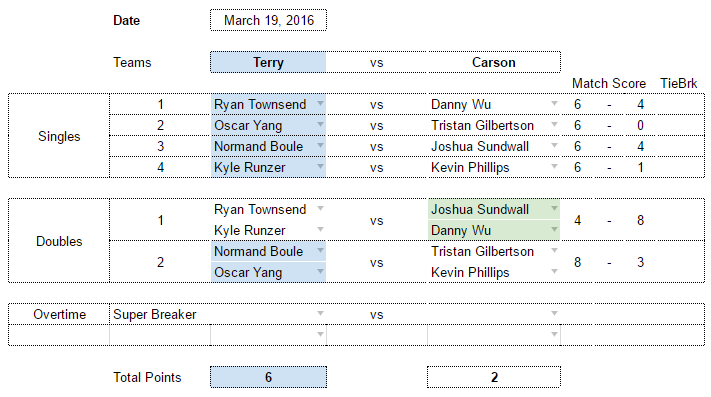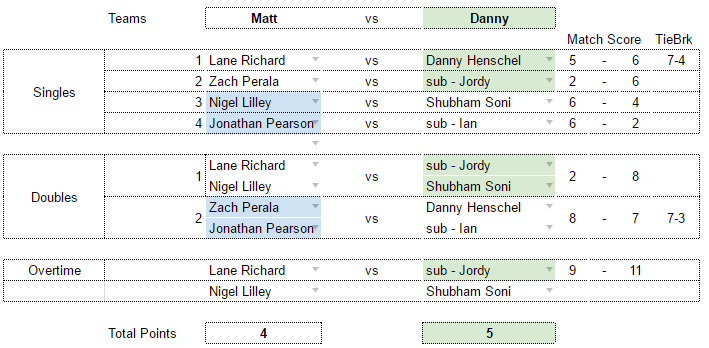 Week 4:
A tight matchup between Jacob and Danny that involved a lot of close matches and tie breakers, with Team Danny squeaking through 11-9 in the superbreaker. Team Carson won handily over Team Matt. We'll see next week who ends up at the top of the table.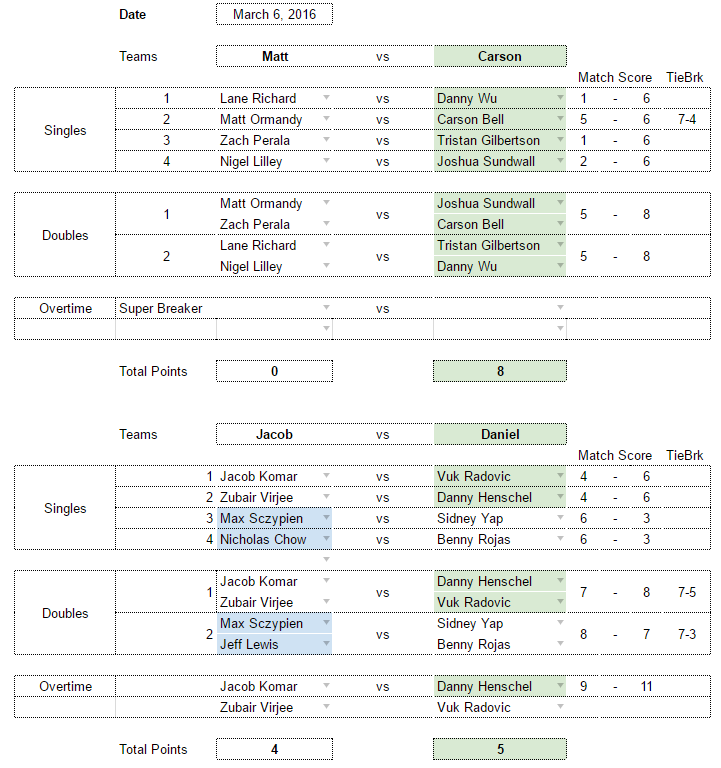 Week 3:
Let's face, Carson was getting just a little too cocky...so this was a good week for the league! Also, this can't be right, Team Commish won again? Wow, should be an interesting finish to the regular season.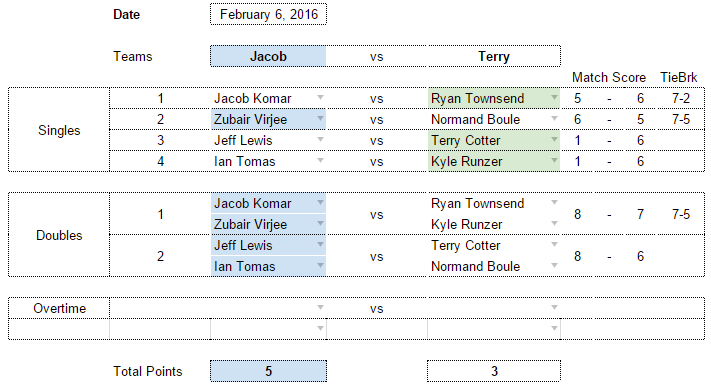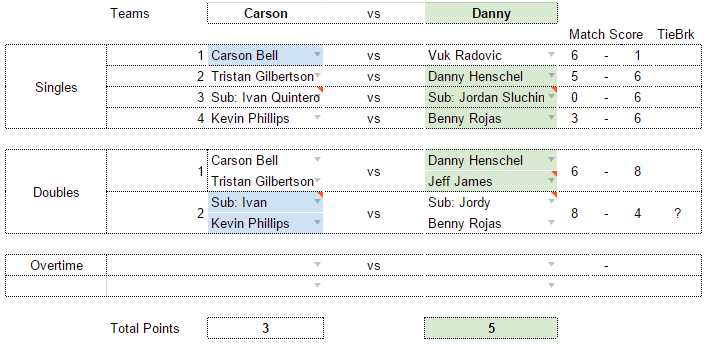 Week 2:
Crazy week with out first shootout of the season, Team Terry edges Team Daniel in a tight superbreaker. In other news, no big deal, Team Commish get their first victory.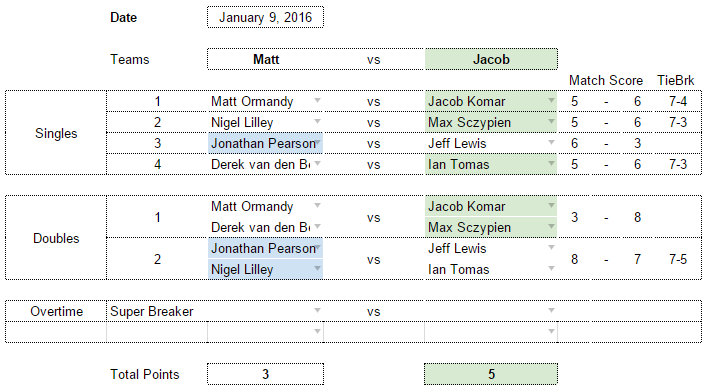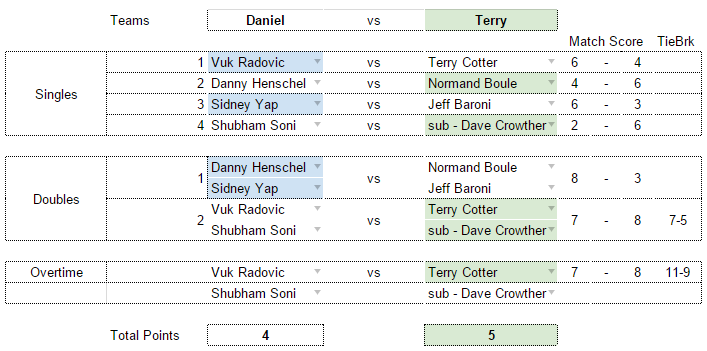 Our first winter league match in a long time is complete and the results were pretty straight forward. Both Team Carson and Team Jacob picked up pretty much where they left off last season (still going in opposite directions) while Team Terry picks up a solid win over Team Matt. Results below, let me know if there are any errors: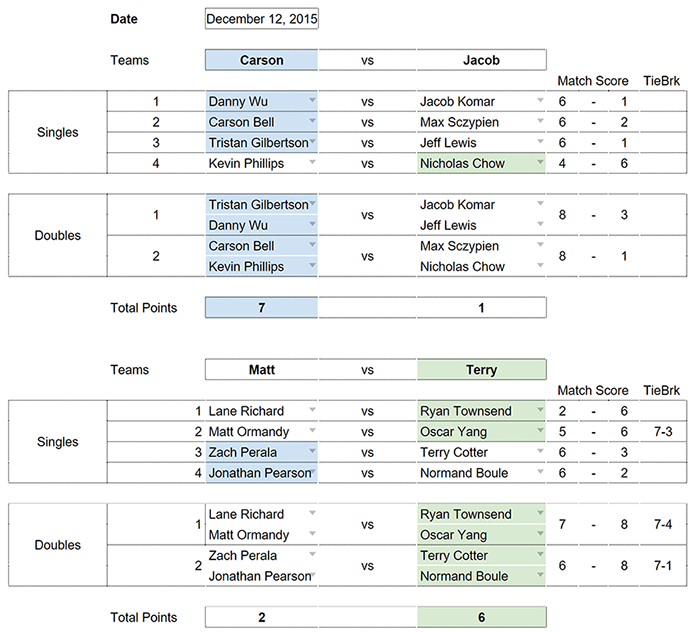 ARCHIVE: SUMMER 2015
Congrats to Team Carson for winning the 2015 Summer Elite League and the Golden Racquet! A really weird match and it all came down to a super breaker with Kristina pulling out the win for Team Carson (who was missing for some reason). I honestly don't know what happened in the 3rd/4th playoff... Danny didn't text me back, I'm just gonna assume he lost.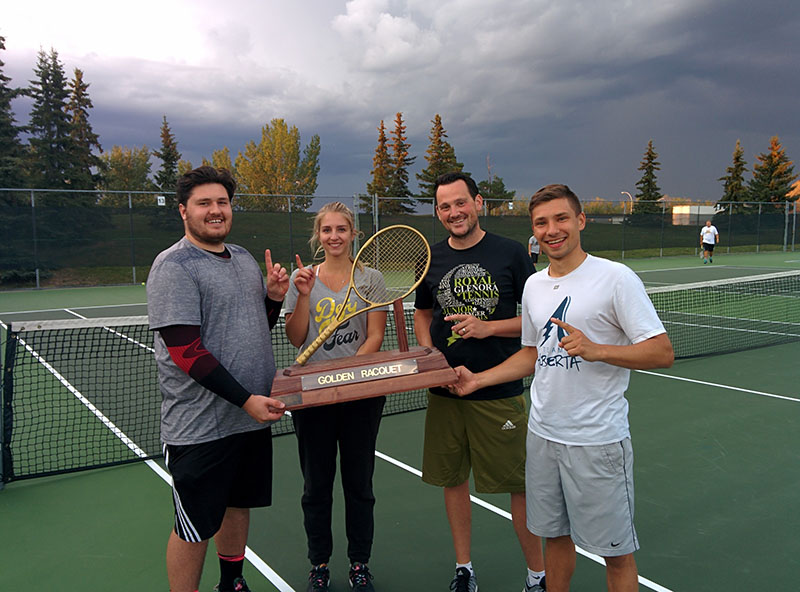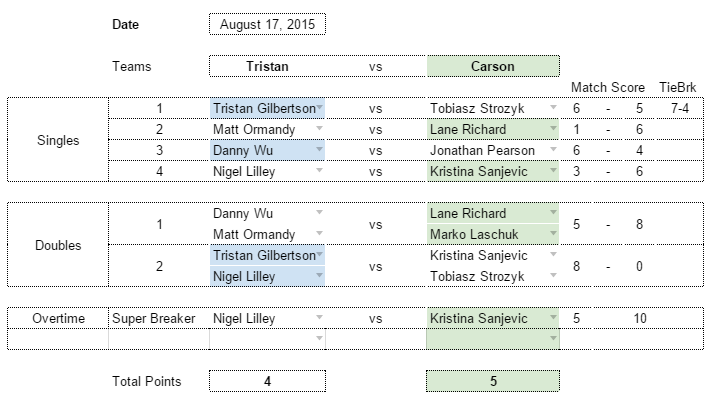 Undefeated Team Tristan beats Team Daniel in what has to be considered an upset considering Team Tristan was playing without the mighty Wu ninja. Meanwhile Team Carson dispatches a very wounded Team Akhil who were without two of their top guys. The final is set for next Monday. The undefeated Team Tristan vs Team Carson (1 vs 2). Let's see if Carson can take a similar team to the promise land again....wait, how did we let him do this again?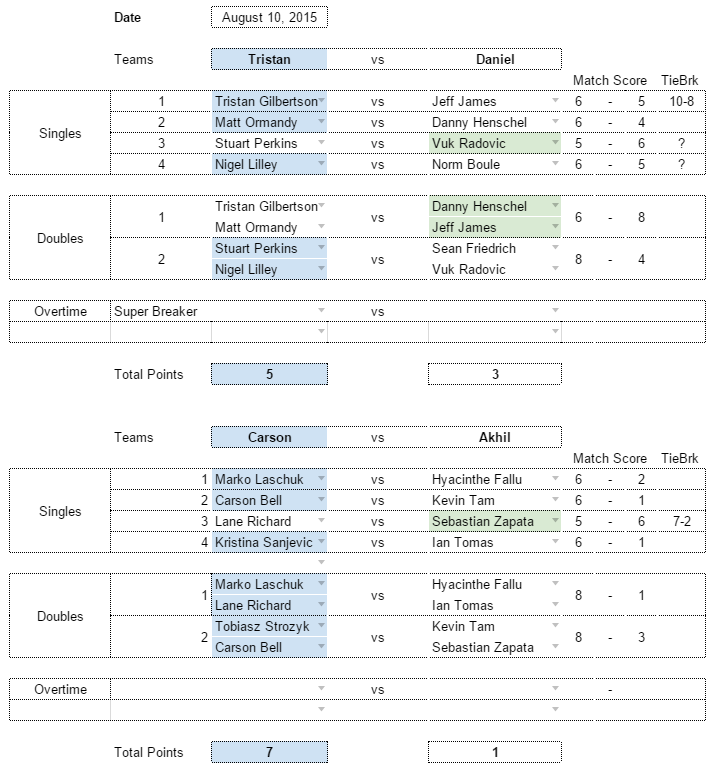 Team Jacob almost took out Team Tristan which would have been really embarrassing for Tristan's undefeated record. There was an investigation into match fixing as Danny Wu disappeared like a silent ninja before the super breaker lineups were set but the Elite League Investigative squad determined that no action will be taken; mostly because they are scared of ninjas. Meanwhile, Team Carson takes both doubles to clinch a solid victory over Team Daniel.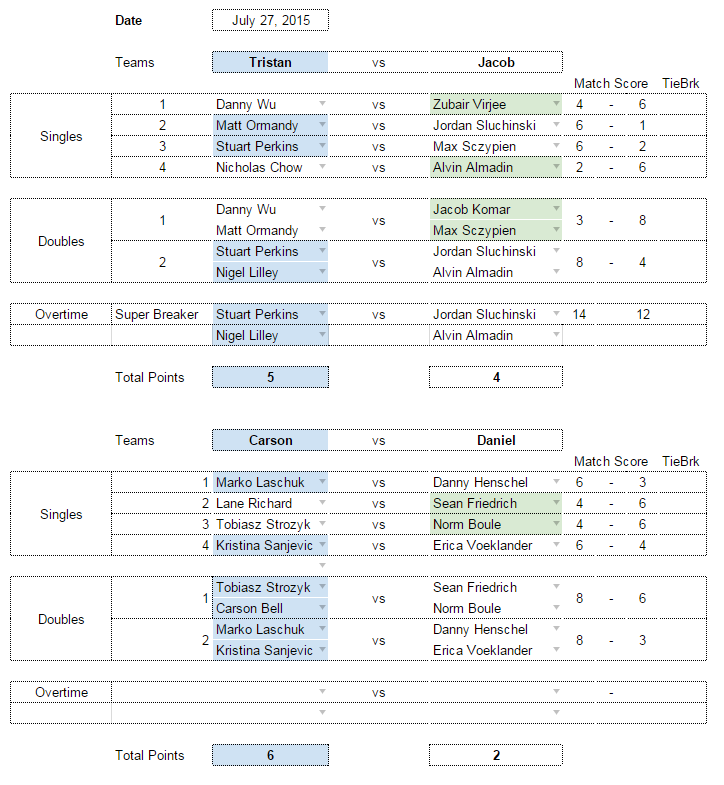 Team Tristan stays undefeated with a victory over Team Carson, meanwhile Team Akhil edged Team Jacob in a tight battle that came down to the final tiebreak. Team Akhil's victory means that instead of a three way tie for last place, Team Jacob is officially punted from the playoffs. In totally unrelated news, The Commish just announced that all teams that made it into the playoffs must pay an additional $6,300 in fees.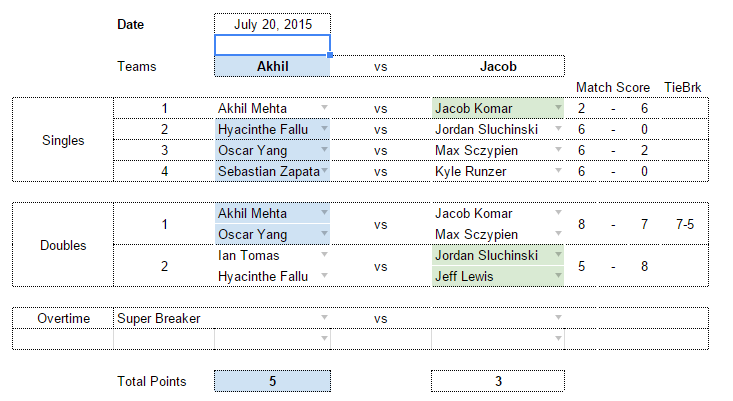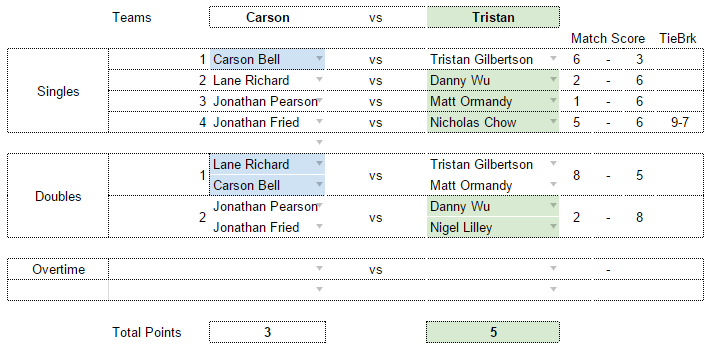 An important week for a couple of teams trying to get out of the basement. Team Daniel won the basement battle against Team Jacob by stealing both doubles matches. Meanwhile, Team Tristan pulls out a squeaker in a tight super breaker against Team Akhil. Tristan was almost disqualified for using more than his one allotted screaming "cmon" (each player is only permitted one screaming 'cmon' per match).  The enforcement committee allowed the extra 'cmon' because it was accompanied by a really sweet slow motion walking fist pump (which is actually the only valid loop hole to the 'one cmon' rule, as described in Article 68c of the Elite League Trash Talk and Douchery Code). As we all know, there is no limit on slow motion fist pumps and Tristan executed his with sublime grace and perfection.
Results are below, let me know if there are any errors.
MVPs - Nigel and Stu, for some clutch doubles when they needed it.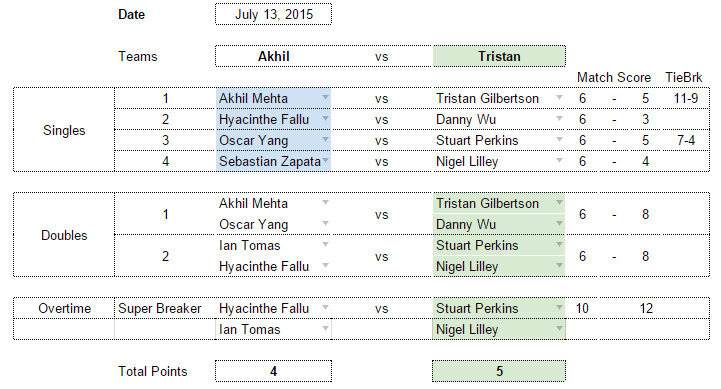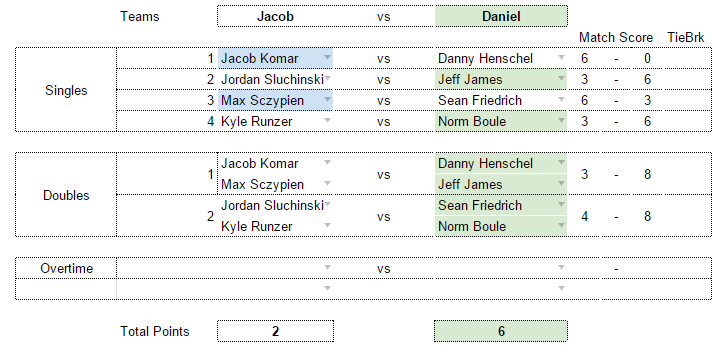 Week 2 is complete with Team Carson getting their second win in as many weeks and Team Tristan squeaking out a hard earned first win.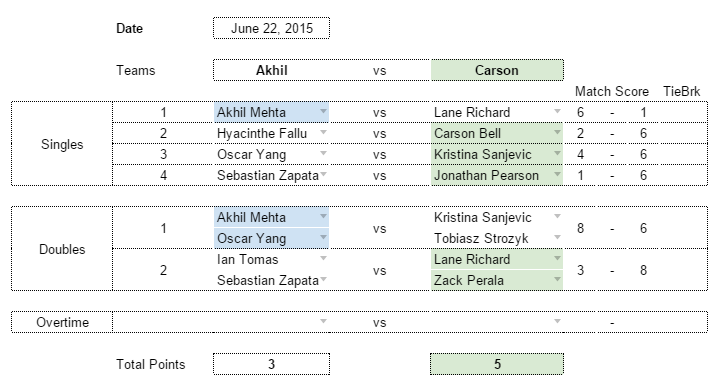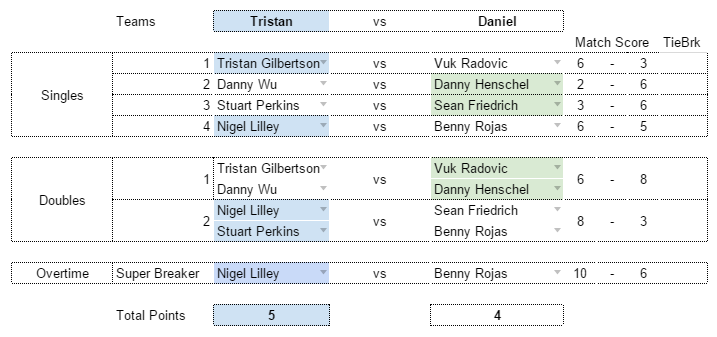 Week 1 is complete with Team Akhil and Team Carson securing victories, both by a score of 5-3. The results are below. I have created a spreadsheet for posting results to avoid the formatting issues, hopefully it looks a lot cleaner. Let me know if there are any errors.